Correction: The headline has been amended to reflect the nature of my mistake. As is clear in the content of the article, I do believe it's possible to ethically interview a Nazi, but my error was in how that interview was conducted.
Here's something no one wants to talk about: journalists make mistakes. Just like all humans, we can make errors. And not just typos and spelling a subject's name wrong. I'm talking about real mistakes, sometimes mistakes that change lives. But it's not really about the error, because that can happen to anyone. It's about what happens next. Do you correct the mistake, apologize, and make sure people know about it? Or do you duck down, lay low, and hope people just forget what you did? Today, I'm here to do the former.
I made a mistake: I interviewed a Nazi. I did so with the best intentions, too. I planned to reveal his bigotry for all the world to see. But there was a snag: He would only do an interview using questions via email, which wouldn't allow me the opportunity to form a rebuttal after my initial question and his reply. I decided to move forward with the interview, justifying my decision by ensuring myself the questions themselves would trap him into revealing enough, but that was a mistake.
Don't get me wrong. He revealed plenty of his bigotry. And I condemned his beliefs at every chance. But the fact that I didn't have follow-up questions made me look softer on him than I had ever intended, which made me mad at myself as someone who comes from a Jewish family. Then he posted the interview on his social media accounts, making it look as though it was a good thing for him, and that was the final straw.
Even though many people thanked me for the interview because it gave them new insights into the thinking of a dangerous racist, I regretted giving him a platform from which to spread his ideas. So, I deleted the interview, issued an apology on my social media, and dedicated more of my time toward promoting anti-racism and anti-Nazism. Since that didn't quite feel like enough, I recently decided to go a step further by speaking more openly about my mistake, including talking about it in my upcoming book, The Curious Person's Guide to Fighting Fake News.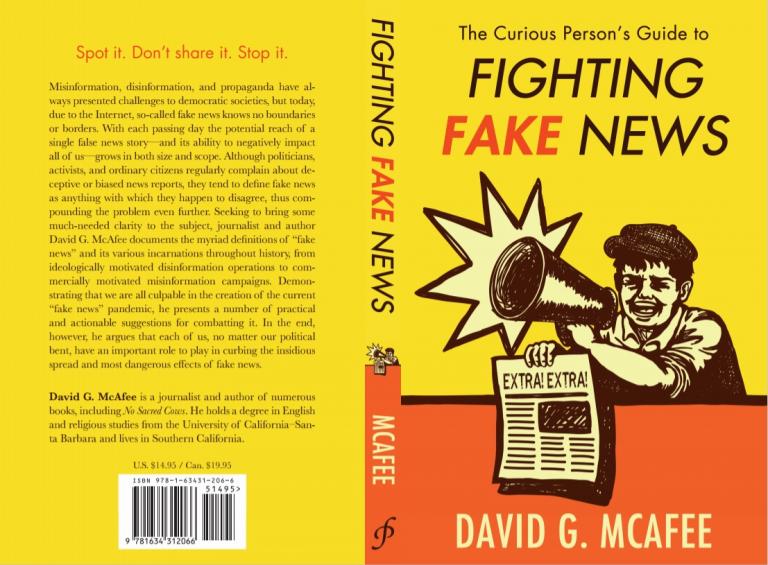 In the book, I explain that I had conducted the interview "in an attempt to dismantle his ideas, expose him, and show the flaws in his reasoning to the public." The fact that I didn't do so as well as I could have is terrible, but it doesn't mean any controversial interview is necessarily harmful. In Fighting Fake News, I also point to those who have succeeded:
"Consider the now-famous Gayle King interview with R. Kelly, who had been accused of various forms of sexual assault and even sexual slavery for years before that. King was initially criticized for providing a platform to the alleged abuser, and not to the people who were allegedly victims, but the interview ultimately allowed the public to see an 'unhinged' side of Kelly, who had consistently denied culpability. Shortly after the interview, Kelly was arrested, and King said she was 'not surprised' by it."
Regardless of what could have happened, I apologize for what did happen. I regret the interview, and will do my best to use it as a learning experience for myself going forward. I will also continue to spread the message of quality investigative journalism, and doing what journalism is all about: standing up for the people.
If you can get the book, I hope you will! It also has a chapter on how to help your loved ones who are constantly spreading misinformation, so it could come in handy leading up to the election in the U.S. If you can't afford it, there's also a Kindle version, or you can also email me at David-at-davidgmcafee-dotcom for a free digital copy. Thank you!
Yours in Reason,
David G. McAfee