If you ever watched Chappelle's Show, you've seen the fictionalized account of  Clayton Bigsby, the "world's only black white supremacist." Well, there are actually others.
Some of these individuals can be found at "The Twelve Tribes," a religious cult that has thousands of members spread across the world. If the name sounds familiar, it could be because Sinasta J. Colucci wrote a book exposing his experiences there, or because you've seen their "yellow delis" around your town.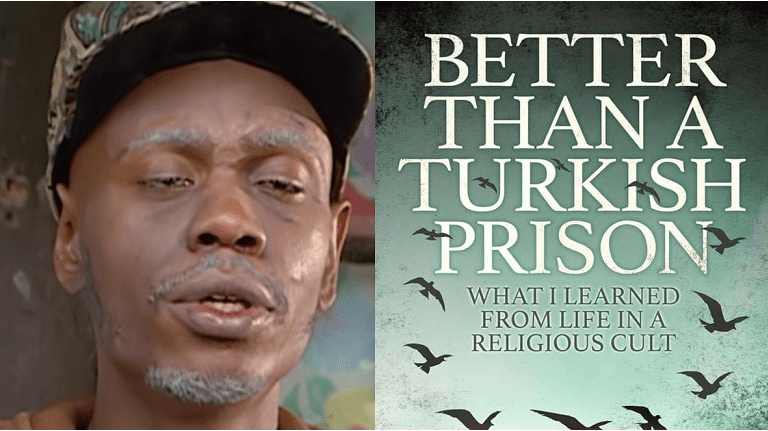 The strange cult, which has been accused of literal slavery, believes there are "three distinct races of humanity," according to Colucci, who published Better Than a Turkish Prison: What I Learned From Life in a Religious Cult with Hypatia Press in April of 2019. He added that the three types are "Chamites," "Shemites," and "Yaphethites."
"They distinguish between these three groups by using the highly scientific method (sarcasm) of looking at an individual's skin color. If you're black, you're a Chamite. If you're white, you're a Shemite. And if you're brown or yellow, you're a Yaphethite," Colucci wrote in an article on Patheos. "This in and of itself could be seen by reasonable people as racist, or at the very least, extreme ignorance. However, the Twelve Tribes takes it a step further by claiming that God has cursed Chamites (blacks) into slavery to Shemites (whites)."
In his memoir on the experiences with the racist cult, Colucci, a mixed-race man born in Detroit, also tells the story of a man who goes by the name Yohannan Abraham, a black leader of the Twelve Tribes who openly supports the idea that the black race is subservient to the white men. Colucci has also recounted this story to the Southern Poverty Law Center.
Meeting Abraham
In Better Than A Turkish Prison, Colucci tells about his experience – as an indoctrinated member – meeting the black leader known as Abraham. He says he wanted badly to believe the community he had become a part of wasn't actually racist. Here's an excerpt from the tell-all book about the cult:
"Yohannan Abraham was an older black man with a rat-tail for a ponytail. He had joined the community in Chattanooga, way back in the very beginning. He was thin-bodied, sharp-minded, and spoke with a fiery passion. He'd often told stories about Nathan Bedford Forrest, who'd founded the Ku Klux Klan. Yohannan Abraham believed that Nathan Bedford Forrest was a righteous man, and he believed that the KKK, in its early days, had a righteous purpose… Now, I had watched The Chapelle Show before joining the community. It had been one of my favorite shows. So, admittedly, the image of Chapelle's black white supremacist was lingering in the back of my mind when I was listening to this older black man glorify Nathan Bedford Forrest and the KKK, but I would never have told anybody that."
The book goes deeper into the dynamics of this cult and racial issues, but I felt this story was worth highlighting on its own. If you decide to check it out, I hope you'll leave a review!
Reasonably Yours,
David G. McAfee