Donald Trump has repeatedly claimed that he "won the election" against Joe Biden and that his lawsuits surrounding the electoral process will reverse the results in swing states to reflect that, even after Biden was projected to be the winner by all research firms and media outlets. So, as a journalist who has covered legal issues for years and written a book about fighting misinformation and fake news, I wanted to find out: is that even possible for Trump?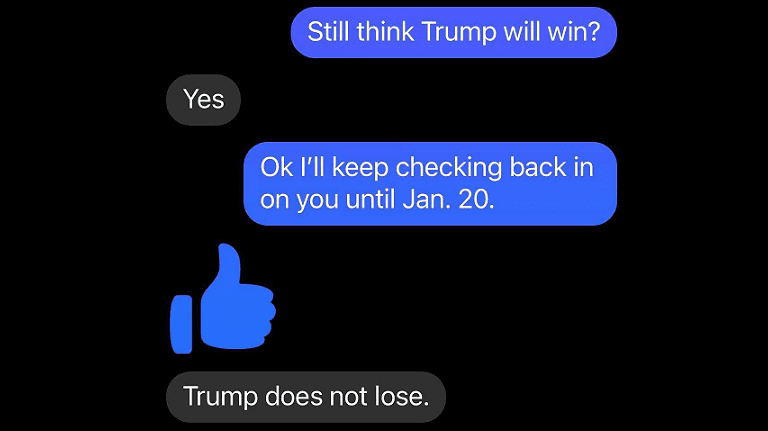 The simple answer to this is no.
Trump has the right to file as many lawsuits as he wants about any variety of things, and he may even achieve successes, but even if he got everything he asked for in his flurry of complaints, it wouldn't change the results and give him a second term. Here is my analysis:
Pennsylvania – Trump, his campaign, and the Republican Party are involved in about six lawsuits involving the electoral process in the Keystone State, but not all of them would impact the actual counts. Many of them are just about how close observers can be to the actual counting. Here's a quote from one well-publicized lawsuit in which Trump's campaign lost its bid to get the Philadelphia County Board of Elections from counting ballots until observers from the Republican Party are present:
"Pennsylvania law as determined by the Commonwealth's highest available court requires that representatives and poll watchers to be present and observe the canvassing of all mail-in and absentee ballots. The County Board of Elections is aware of this Order but is intentionally refusing to allow any representatives and poll watchers for President Trump and the Republican Party. The County Board of Elections is nonetheless continuing to count ballots, without any observation by any representatives or poll watchers of President Trump and the Republican Party," attorneys representing Donald J. Trump for President Inc. wrote in their complaint filed Nov. 5. "Plaintiff seeks an Emergency Injunction barring the Defendant County Board of Elections from continuing to count any ballots so long as Republican observers are not present as required by state law."
Of those that could possibly affect the actual ballots counted, you have three cases:
The Trump Campaign is suing in an effort to toss ballots that contained errors but were "cured." A federal judge rejected that initial complaint, but even if the plaintiffs prevail in that case, the number of ballots being discussed is minor and not included in current tallies that project Joe Biden as the winner of the election.

In another suit, Republicans are hoping to get about 600 ballots tossed because they were received without secrecy envelopes. With Biden leading by about 41,000 votes in Pennsylvania, this could not make the difference.

Another suit is currently challenging how long after the election ballots can be received, even if they were postmarked before Nov. 3. This deals with a relatively small number of mailed ballots and, even if it's successful, it would not affect the ultimate tally enough to swing the state back to Trump. That is in part because the ballots being discussed are already not being included in total vote numbers, Forbes reports.
In Nevada, the Trump Campaign lost its lawsuit over signature-matching technology when the State Supreme Court ruled that there wasn't sufficient evidence to show the process was forbidden.
In Georgia, the Trump Campaign seeks to invalidate 53 ballots that were allegedly returned after polls closed. These 53 ballots, which could be for Biden or Trump or someone else, wouldn't make the difference.
In Arizona, Republicans dropped their lawsuit alleging Republican voters were disenfranchised when they used Sharpies to fill out their ballots. An investigation revealed that Sharpies work just fine.
Based on correspondence and conversations with Maricopa County officials, we are now confident that the use of Sharpie markers did not result in disenfranchisement for Arizona voters. We appreciate the county's prompt insight and assurances to address public concerns. pic.twitter.com/NdYLsEAvwd

— Mark Brnovich (@GeneralBrnovich) November 6, 2020
Trump would have to successfully invalidate enough votes to take away key Biden wins in multiple states, but the numbers involved just don't support that as a reality. So, if the Trump Campaign and Republicans prevailed in every lawsuit they have pending before the courts and got everything they wanted, it wouldn't change the electoral vote enough to give Trump the win. It's not realistic, based on data.
This fact check was inspired by my new book, The Curious Person's Guide to Fighting Fake News, which has information for debunking false claims as well as a chapter on how to help loved ones escape from the clutches of fake news. Thank you!