Injecting bleach, huffing essential oils, and now… putting up scarecrows. We just added another item to the list of things that people are trusting to prevent the novel coronavirus, despite all evidence to the contrary.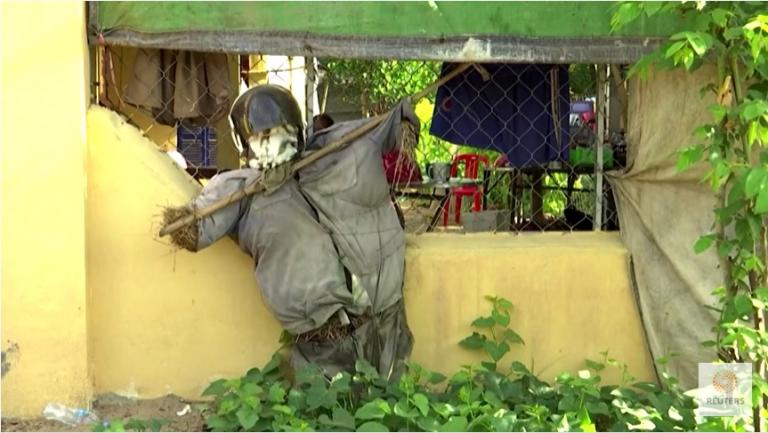 People in Cambodia have turned to a relatively unique way of preventing COVID-19: erecting scarecrows. Ek Chan is just one of many locals who say they have so far avoided becoming infected amid the pandemic without masks and social distancing thanks to the use of the scarecrows, according to a Reuters report:
Ek Chan's two scarecrows, known locally as "Ting Mong", guard the gate of her house in Kandal province near the capital Phnom Penh, giving her peace of mind.

The practice has existed for more than a century in some Cambodian villages, where residents like 64-year-old Ek Chan trust their ability to fend off evil spirits and disease.

"Since I made these Ting Mongs, they helped to scare away any virus including the coronavirus and stop it spreading to my family," said Ek Chan, who has a male and a female scarecrow.

"I myself really believe in the magic of the scarecrows and I don't worry about catching the virus at all."
The most interesting part of all this to me is that Chan and other Cambodians aren't at as great a risk as others for a number of reasons, including that many of them live in remote villages. Perhaps most significant, however, is the fact that the entire nation has had zero deaths from COVID-19, and a total of 307 cases.
The simple scarecrows, made mostly of hay and bamboo and dressed in the owners' old hand-me-down clothes, are not preventing anyone from getting COVID-19. But they also aren't making Chan oppose the science aimed at eradicating the virus. She says she hopes a free vaccine will be available soon so that it can help others in her country.
Stay Skeptical,
David G. McAfee (You can support me here.)