The 41st installment of American Atheists' Annual National Convention (hereafter referred to as "AACon", or "AACon15" when referencing this recent event) was held in Memphis this past week and weekend. This occasion came on the heels of the strategically timed CNN Special Report: Atheists – Inside the World of Non-Believers that also featured American Atheists President, David Silverman. I wasn't too impressed with the TV spot, but I'll speak more on that a bit later.
This was my first time attending an AACon. Honestly, I'm not a big proponent of such events unless I see they (whomever the organizers may be) at least make some effort to sponsor diversity among those who will be lecturing and endeavor to have more nuance regarding the issues discussed.
AACon15 provided both. Additionally, it provided the invaluable chance to meet and network with those within the atheist community on a more intimate level in ways I wouldn't have been able to do otherwise. Actually, more than mere networking, I was able to forge what I consider to be a few new friendships, something I certainly don't take lightly seeing as how I have so few of them. So yes, I had a great time. I even modified my travel arrangements so I could stay longer!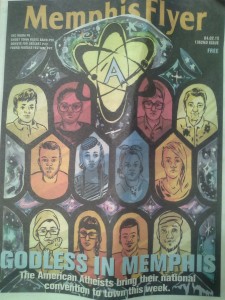 Mr. Atheist Pants Silverman had a tactical plan—as is usually the case—which is evidently why this year's conference was held within the Bible Belt with its inception anticipated and our presence made well-known before we even arrived (see "Godless in Memphis" image).
Memphis, what some refer to as the blues capital of the world, was an excellent choice. AACon15 was hosted by the luxurious Peabody Hotel, which seemed ideal as this specific site—due to owning the sidewalk property around its circumference—limited protestors to demonstrating on the other side of the street. I say this because I'm not one who indulges in such trifles as entertaining picketers, though I found their presence amusing. Moreover, The Peabody was only a few blocks away from Beale Street, a famed hub for blues music, dining and general reveling.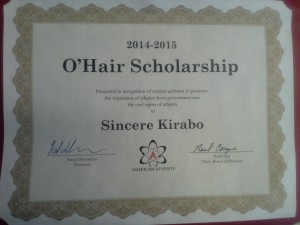 Oh, I won something! I was awarded the O'Hair Scholarship, whose inscription reads: "Presented in recognition of student activism to promote the separation of religion from government and the civil rights of atheists…" It was a pleasant surprise to receive the email confirming I had been rewarded this scholarship. I greatly appreciate American Atheists for the opportunity and honor.
I mentioned the CNN special for a reason, as it showcased an ongoing issue: a gross lack of diversity. Some joke and say the only person of color glimpsed throughout the entire segment was in the crowd at Jerry DeWitt's atheist church (33-minutes into the piece). It's funny I guess, but in a pathetic way. The only featured nonbelieving woman was a brief spot towards the end with Vanessa Zoltan. There was basically zero representation of marginalized groups who also identify as atheists.
That isn't to say those interviewed orchestrated this arrangement. They didn't. For example, Silverman—who's segments were edited so that his persona better fell in line with the "bad guy" role—has expressed his interest in diversity and ways to achieve it. Still, the special yet acted as a microcosm of the dilemma we face within the subculture referred to as the atheist community, which in many ways mirrors the culture it is subsumed within: White men at the forefront and everyone else taking a backseat, and that's if they're even allotted a ticket to board.
This is the chief reason why I enjoyed AACon15's attempt to marshal greater diversity and nuance within mainstream events like this. I hope this is a continued trend mimicked by others. Among other things—not trying to exclude anyone, but will only highlight a few things I noticed: workshops on better understanding consent (by Miri Mogilevsky) and intersectionality (by Heina Dadabhoy and James Croft), Croft's speech on "Humanism in Ferguson and Beyond", an ex-Muslim panel discussion featuring EXMNA (Ex-Muslims of North America) members, a notable talk from Bangladeshi humanist activist and blogger Asif Mohiuddin, and Dr. Anthony Pinn's eloquent presentation relating "What Atheists Can Learn from Hip Hop Culture".
And of course, there was the keynote speaker who is Somali-born ex-Muslim Ayaan Hirsi Ali. Though I generally disagree with many things she says (I say this with a tame tongue that won't divulge sentiments any further), it was cool to see her heralded as the main presenter. Also, a note: I was only able to briefly glimpse Darrel Ray's "Male Shame and Religion: The Root of Female Shame" presentation, but it seemed really informative. I'll check it out later when the event is available for viewing on Atheist TV.
Overall, AACon15 was an experience to cherish. I think American Atheists put together an exceptional event. Further, it has piqued my interest in future events. I now await what the future may hold regarding "major conferences" potentially focusing more on intersectionality (upgraded from auxiliary workshops to spotlight presentations), ways to address and destabilize disparities associated with the many manifestations of privilege, and more inclusion of people of color and those from varied backgrounds.