Updated: 2/3/16
This past weekend was the Secular Social Justice Conference, an event focused on analyzing and seeking secular solutions for real-world social ills through a secular lens. What's more, the discussions had little to do with god beliefs or religious ideation but were nevertheless informative and engrossing to the diverse group of atheist attendees.
There was no need to bash Abrahamic religions or their adherents.
There was no need to cite reason #2131085 why there is no god entity.
There was no need to feign intellectual superiority over the religious.
There was no need to assemble around facile mantras like "religion poisons everything."
We—organizers, panelists, and participants—came into the space with the implied virtue of atheism and knowledge of the adverse effects of certain religious ideologies. Rather than reaffirm or hover over these conclusions, SSJCon displayed a refreshing evolution beyond the mainstream agenda and complacency I've encountered many times previously.
I'm not denigrating the content of previous conferences and meetings. I truly appreciate them for what they were. However, when it comes to substance, I found SSJCon to be the most informative and probing atheist-oriented event I've attended in that it addressed widespread social disparities deeply rooted in the fabric of this country.
SSJCon organizer Sikivu Hutchinson began the event by fleshing out the reasons for intersectional social justice activism. Her opening remarks focused on this progressive counterculture juxtaposing the established #atheismsowhite institution. Afterward, we were treated to panel discussions that featured a mix of brown and black academics, atheist group organizers, and direct action social activists.
Live tweeting also captured some notable points throughout the two-day meeting addressing relevant matters both within and beyond atheist circles.
Here's an very brief summary of each panel:
"Feminism(s) of Color and the Secular Movement"
• Feminists of color from all different backgrounds relay their shared struggle and lived experiences when it comes to the ubiquity of being "othered" as well as the dearth of reason when it comes to encountering mistreatment within secular spaces.
"Humanism and Hip Hop"
• Teased out philosophical aspects and cultural relevance of hip hop, the ways hip hop and humanism are connected, and the value the hip hop tradition holds for humanists.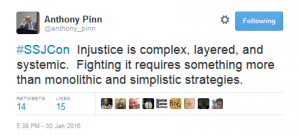 "Finding Justice in an Economic System that Proclaims Financial Opportunity for All"
• Highlighting the necessity of economic justice and ferreting out discrepancies within the imagined American Dream while scrutinizing problems related to homelessness, universal healthcare, college access, and distribution of wealth.
"LGBTQ Queer Atheists of Color and Social Justice"
• Queer activists on the frontline of LGBTQ, Black Lives Matter, and atheist social movements relay their experiences of having their queer, Black, and atheist identities marginalized and erased in various settings within these movements. Also highlighted: combating the issue of HIV-criminalization.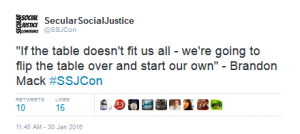 "What's Race Got to Do With It? Racial Politics and Intersectionality in the Atheist Movement"
• Activists from all corners of the atheist subculture appraise the impact race, racism and white supremacy has on present-day social institutions, including politics and the secular community. They examine and share keys to increase diversity and social progress.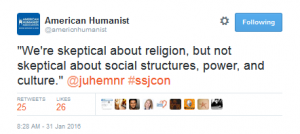 The final day mainly consisted of viewing a film produced by Daniel Myatt (Black Skeptics Los Angeles) titled "Walter Walk with God." Myatt's film tells the story of recent Christian convert Walter Walk who believes he's been divinely ordained to evangelize Los Angeles' Skid Row. This was followed up with an in-depth Q&A and analysis.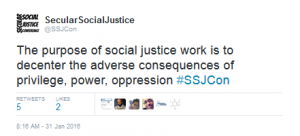 This weekend was about self-examination, listening, developing effective allyship, and personal and community growth.
Of course, not all atheists are open to introspection. Many don't want to challenge beliefs and values they hold that comply with or reinforce various systems of inequality.
It will be these individuals who believe the social, economic, and political deprivations of marginalized groups aren't important. Some say this outright. Others convey this calloused position by labeling certain forms of privilege a myth (while maintaining religious privilege is absolutely a thing).
Others resort to defensive moves and lash out against those who bring up disparities they prefer to not think about. Others resort to denial or willful ignorance and favor mocking those who voice their anxiety and frustration over mistreatment. Others criticize without even grasping the ideas they're criticizing. Others remain incurious and prefer silence and overlooking these matters since these inequalities don't directly affect them.
In more recent years, I've become acquainted with an ever-increasing number of atheists who come from disenfranchised identities (women, queer, people of color, etc.) who have grown disillusioned with the status quo. They're tired of the stagnant nature of secular (both atheist and humanist) groups or organizations that choose to downplay or disregard the significance of issues that were openly and readily confronted at Secular Social Justice.
Sunday, Alex Gabriel wrote about The Other Movement. This is something Greta Christina described in more detail early last year, contrasting the differences between what's commonly referred to as New Atheism and this "other," more progressive and socially responsible atheist movement.
And yes, I dare say "more progressive." A progressive is one who is actively engaged in social reform. A progressive isn't one who rests on their laurels. Progressives desire to be catalysts for substantive change. This divergence of ideas between mainstream-oriented and social justice-oriented atheists has been detected for years by Sikivu Hutchinson and also sensed by Roy Speckhardt (American Humanist Association, Executive Director), among others.
Commenting on this second movement, Greta remarked this movement is about "just getting on with the business of creating atheist communities and an atheist movement that welcomes and supports a wide variety of atheists, and that works to make the world better in ways other than just talking about why God doesn't exist."
I'm not saying most atheists are horrible. That would be unfair. I'm also not saying all those associated with mainstream atheist activity don't also care about certain social justice issues to some extent.
As Greta's article teases out, there's certainly overlap. What we're discussing here is an unstated ethos that far too many atheists embrace that manifests as apathy or antagonism. It's this element that shouts down calls for progressive improvements and disrespects the humanity of others. It's this element that makes certain atheist and even secular humanist spaces hostile, especially when whiteness or maleness is critiqued or decentered. As a result, those who would prefer to stay eventually leave these kinds of environments due to being alienated.
Meanwhile, there are other atheists who do care and don't want to contribute to secular spaces that tacitly or explicitly promote exclusionary values. No, they aren't perfect, but they refuse to diminish the importance of social change. These are the kinds of nonbelievers who took part in Secular Social Justice this past weekend in hopes of creating a more charitable culture. I co-sign Alex Gabriel's sentiments: This is my kind of movement.
*****
Footage of the event will be released by the end of this month. I'll update this article with a direct link to it when it's available.