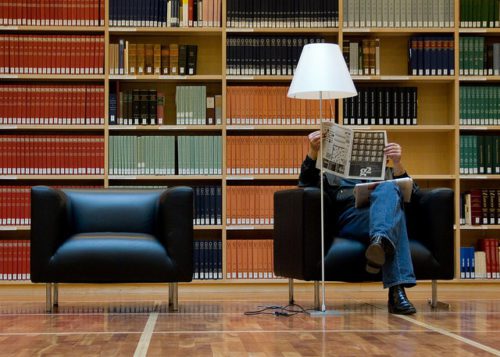 "The Non-Partisan Politics of Jesus"
In this excerpt from his book Jesus Outside the Line, posted on The Gospel Coalition, Scott Sauls causes us to think about how faithfulness to Jesus will put us at odds with both major political parties on different issues. Then he shows how people who have different political convictions and persuasions can be united by one great thing. "We should feel 'at home' with people who share our faith but not our politics even more than we do with people who share our politics but not our faith. If this isn't our experience, then we may be rendering to Caesar what belongs to God."
"No, Not Trump, Not Ever."
Speaking of your faith putting you at odds with the party with whom you affiliate, David Brooks writes persuasively in The New York Times today about the case against Donald Trump. I have linked to Brooks' writing often and do so here, not to try to make a political point, as much as to see an article returning us to a time when we thought character mattered in our leaders. While we are not electing a "pastor in chief," a phrase which seems to be in vogue these days, we do have to think about both the moral character and emotional maturity of our leaders. Brooks provides a great example of how to think through this.
"History is a long record of men like him temporarily rising, stretching back to biblical times. Psalm 73 describes them: 'Therefore pride is their necklace; they clothe themselves with violence. … They scoff, and speak with malice; with arrogance they threaten oppression. Their mouths lay claim to heaven, and their tongues take possession of the earth. Therefore their people turn to them and drink up waters in abundance.'
And yet their success is fragile: 'Surely you place them on slippery ground; you cast them down to ruin. How suddenly they are destroyed.'
The psalmist reminds us that the proper thing to do in the face of demagogy is to go the other way — to make an extra effort to put on decency, graciousness, patience and humility, to seek a purity of heart that is stable and everlasting."
"Our Children, Our Neighbors"
I'm pretty sure I've linked to this post of Jen Wilkins' before, but found it to be convicting to me again when I read it again this week. She explores what happens when we treat our children as the Bible says to treat our neighbors and through this offers a strong challenge to parents. "Because if children are people, then they are also our neighbors. This means that every scriptural imperative that speaks to loving our neighbor as we love ourselves suddenly comes to bear on how we parent. Every command to love preferentially at great cost, with great effort and with godly wisdom becomes more than just a command to love the people in my workplace, my church, my hair salon or the local homeless shelter."
Reclaiming Conversation
The last time Beth and I were on a date I could see the couple at the table next to us from the corner of my eye and they appeared to be on their phones for the entire meal. Because we are constantly staring down, conversation has become a lost art. Media scholar Sherry Turkle helps us understand the central role of conversation in our lives and culture and also shows why these connections are so necessary. "Based on five years of research and interviews in homes, schools, and the workplace, Turkle argues that we have come to a better understanding of where our technology can and cannot take us and that the time is right to reclaim conversation. The most human—and humanizing—thing that we do."