I'll admit upfront that there's more than one way to read this.
Dogmatic assertions do not take the place of revelation, and we should be satisfied with that which is accepted as doctrine, and not discuss matters that, after all disputes, are merely matters of theory. Your brethren, (Signed) JOSEPH F. SMITH, ANTHON H. LUND, CHARLES W. PENROSE.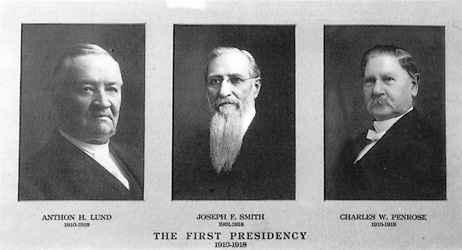 -James R. Clark, comp., Messages of the First Presidency of The Church of Jesus Christ of Latter-day Saints 6 vols. [Salt Lake City: Bookcraft, 1965-75], 4:264-65.
At first read, I take it to mean that in absence of clear revelation, doctrine cannot be established through dogmatic repetition or assertion, regardless of who is doing it. However logical the assertion may seem, one must wait for revelation. In that light, a letter (apparently never sent) from President Reuben J. Clark to Elder Joseph Fielding Smith seems relevant. They had a bit of an argument over things like the creation and age of the earth. Clark responded to Smith thus.
You [Smith] seem to think I [Clark] reject the scriptures, or some of them. I do not intend to do so, but obviously I am no more bound by your interpretation of them than you are by mine….Now, as to what the earlier brethren have said–where they have declared themselves as speaking under inspiration and by the authority of the Lord, I bow to what they say. But where they express views based on their own understanding and interpretation, then none of us are foreclosed from exercising our own reasoning powers, inadequate though they may be; but the earlier views do not foreclose us from thinking. This is particularly true, where we come to interpreting their interpretations.
-D. Michael Quinn, J. Reuben Clark- the Church Years (BYU Press, 1983):167-168. That whole chapter of the bio, on Clark's views on faith, reason and intellect is fascinating, worth reading, and available online.
Discuss.