Something happens when you get paid to do something you love. You still love it and want to do it, but now you have to do it. You can't take a break or say, "This weekend we'll run off for fun." The spontaneity of choice is diminished. It starts to feels less like a gift and more like a…job. When things get tough, you can't take a break. The work that used to be life-giving is now life-taking. Don't get me wrong, I wouldn't trade my job, but when soul-work and work-work get combined it gets messy.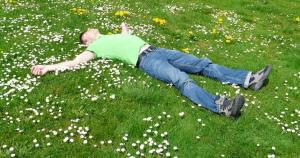 Sabbaticals for pastors are needed now more than ever. We have all felt the very real stress of covid, racial injustice, and political division. We've had people leave our churches because we are both too conservative and too liberal. Shifting attendance patterns have been stressful as people are becoming "hybrid members." Add to this building projects, capital campaigns, and church splits, which are all still happening!
I've had my share of these stressors and yet didn't take a sabbatical so I wouldn't slow our momentum. I don't regret putting this off, but feel a real need for it now. I see why the Bible is clear about the need for rest. A sabbatical is a biblical concept with roots in "The Sabbath," the singular Ten Commandment we feel okay with neglecting. Sabbaticals remind us that our vocations are still gifts we choose to give. They can help rekindle the joy of ministry.
In 2023 I'll be taking my first sabbatical after 17 years of ministry. During this time I've been thinking and planning for a sabbatical. These are the resources I found most helpful. I hope they bless you as you plan for your own season of rest.
Introduction to Sabbaticals 
A sabbatical is a WILD idea. Sabbaticals are just now becoming more and more common in the "professional" world. Intel has given extended time off to employees and report it as a great incentive for increasing longevity in their workforce. These articles can help you start to have the conversations with your church to make a sabbatical plan.
Planning Guides 
If you're going to spend a few months on a sabbatical you should probably put some thought into it. The investment you would make in one of these books will pay off.
Clergy Renewal: The Alban Guide to Sabbatical Planning – Is the classic guide for churches and pastors planning sabbaticals. It has a timeline, guide to funding resources, strategies for developing a plan, building consensus, and setting goals. You can find this as a paperback on Amazon, but the link I've included takes you to the publisher who has both paperback and e-book versions.
Planning Sabbaticals: A Guide for Congregations and Their Pastors – Is a book put out by the Lily Endowment for Clergy Renewal. They have taken their decades of experience in guiding and funding clergy sabbaticals and condensed it in this user friendly guide. It is ideal for a pastor to share with their church leadership to create a sabbatical plan that will benefit everyone.
Sabbatical Resources
Here are some useful links to retreat centers, funding, and even home swaps. You'll need these to make your sabbatical plan a reality.
I hope these resources I've collected over the years help you in your sabbatical planning. Feel free to share your own resources below in the comments.
Please keep in mind that I may receive a commission when you click on links and make a purchase. This, however, has no bearing on reviews and/or comparisons.