In some denominations it was/is common practice for all clergy to be second career clergy. The thinking went something like this, "Make sure you want to go into ministry. Pursue other work of interest to see if it will satisfy your need for service and vocational fulfillment. If not, come back  and we'll talk ordination." This attitude seems to be fading with so many churches and denominations scrambling to find clergy.
Is it a Call or Crisis?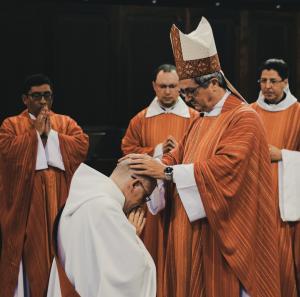 Churches may no longer encourage it, but many people still consider ministry as a second career. Why? The reasons are as diverse as there are people, but it seems to me an existential crisis often leads to this type of decision. Some times it's a man feeling totally burnout and bankrupt in his current profession. It could be a woman who always felt a call from God, but ignored it. Over the years that call grew louder and louder until it was deafening. She, maybe moved by a sermon or song, finally caves in and takes a leap of faith into ministry.
I've talked with several people who thought about making a career move into the church. They had enough with the "secular world" and wanted to serve in the "sacred world." They wanted their life to "mean something." They wanted to serve God full-time, so they came to me to ask my advice.
5 Things to Know About Ministry
Here's what I tell anyone thinking about making a vocational switch into the pastorate.
Take your time. Don't quit tomorrow. Instead, try interning or serving in your off time. Serve a lot! Get as much experience as you can to see if this really is what you want to do with your life.
If you're married, make sure your spouse is on board. I've talked to men who said, "God was calling them into ministry." The problem was that their wives hadn't heard the call! God is equally capable of speaking to both people in a marriage. So, take the time to pray together and discern if your hearing God's voice together or not.
Realize ministry is not as easy as you think. I wrote a post titled, "Behind the Curtain" exposing the common myths people think about ministry. Read it and realize there are problems with every job, even those in the church.
Know people are people everywhere – even in the church. One myth I need to probably especially call out is that people are not as nice as you think…even in the church! If personality problems are plaguing you now, they'll probably plague you in the church.
Get lots of advice! Ask pastors you know and respect about their jobs. Ask them about the schools they went to and the internships they had. Find out what they wish they had done differently. (Some advice might even be from books. Here's a post with ideas, "Three Books for New and Aspiring Pastors")
Start Where You Are
If you're still ready to make the jump then start with your local church. See if they will train you for ministry or help you get training for it. They may want to bring you on part-time while you train or finish your education. Your local church will be your greatest support as you make this switch.
Try serving within your existing congregation and see what specific areas of ministry particularly resonate with you. Ask the ministers who lead in those areas about their training and their career path. The price of taking them out to lunch is worth the advice you'll get.
As you go along, pray! If you're married pray with your spouse. If you have kids pray with your family. Ask for God to give you unity of vision and singleness of purpose as you take your next steps. Then trust that God will guide you all from where you are to where you need to be.