Contemplation has burst out of cloistered gates. For centuries, spiritual wisdom has been hidden but passed down by faithful renunciates in monastic orders. Carmelites, Franciscans, Dominicans, Trappists, and more nurtured mystical wisdom and spiritual practices of transformation and passed it on. Mysticism has been Christianity's "pearl of great price": usually ignored, sometimes derided and mocked, sometimes cause for rational religion's shame, but for those who tasted Love's depths, fearlessly kept with care.
Today though, longtime monastic disciplines such as silent prayer, chanting psalms and lectio divina are now practiced by millions of people outside monastery walls. Contemplative Outreach, the organization founded by Trappist monks, including recently deceased and beloved teacher Thomas Keating, claims to teach over 15,000 people per year the Centering Prayer practice. (For those unfamiliar with this powerful type of Christian meditation, check out their introductory instructional brochure here).
Trappist monk Thomas Merton made a bestselling splash (unheard of for a monk) with his 1948 biography The Seven Storey Mountain.  While in the monastery he corresponded via letter with some the great activists and artists of his time (Martin Luther King Jr., for example, planned to do a retreat at Gethsemane Monastery in Kentucky in April 1968, the very month an assassin's bullet killed him).
Today, teachers communicating the contemplative path for modern people are becoming more widely known. It feels to me as if contemplation is a key characteristic of the global spiritual zeitgeist. Many people are bored and burned with church these days, and often rightfully so, but that hasn't stopped them from meditating, going on mindful walks, learning pranayama (yogic breathing), picking up mystically-themed books, or attending retreats.
Fr. Richard Rohr, Cynthia Bourgeault, James Finley, Matthew Fox, Mirabai Starr, and many more, are helping new generations of people discover the vital spiritual fire of ancient mystical texts. Heck, Fr. Rohr's podcast conversations on his new book The Universal Christ is the number one Religion and Spirituality podcast on Itunes as of this post. Cynthia Bourgeault's Wisdom Schools—carefully modeled after a Benedictine integrative rhythm of work and prayer—sell out months in advance.
Something more is afoot, though, I'm convinced, than simply retrieving mystical spirituality and making it accessible for a wider audience. Millions of people are sitting in Centering Prayer, but a subtle and revolutionary change is also transpiring: now that contemplation has burst monastery gates, the definition of contemplation itself is evolving.
Contemplation today is shaping into something different than the threefold traditional mystical path of purgation, illumination, and union with God. The great heroes and heroines of divine union teach us that path through the narrow gate, to be sure, but a broader way (or more inclusive way of understanding that very threefold path) is being opened up, too. A way that ordinary people like me, and maybe you too, with busy jobs and families can affirm without feeling like they are failing or always playing contemplative catch-up.
Consider these definitions of contemplation by writers in recent years:
"Contemplation is any way one has of penetrating illusion and touching reality." –Parker Palmer
Contemplation is taking a "long, loving look at the real." – Jesuit Walter Burghart
Modern day mystic Beverly Lanzetta makes contemplation ultimately about being human: "The spiritual quest is a fundamental orientation common to the human experience. The commitment to seek the ultimate…is imprinted in the heart of the world"
Contemplative teacher Barbara Holmes draws on the experiences of black suffering and even suggests crises of injustice can startlingly give birth to contemplation: "The word contemplation must press beyond the constraints of religious expectations to reach the potential for spiritual centering in the midst of danger."
Or, consider Fr. Richard Rohr's working description of a Christian: "A mature Christian sees Christ in everything and everyone else." -Richard Rohr
These different definitions are revealing that contemplation is about being alive, and in love with Life, or God, or Love!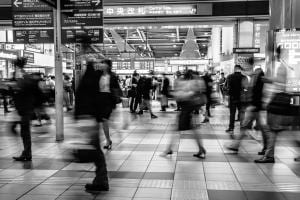 This is deeply relieving and encouraging to me. My heart longs for intimacy with God, but to access that intimacy I do not need to "go away" anywhere, but simply show up here where I am with greater availability and vulnerability to life. I am praying when I wrestle and throw pillows with my four and six-year old boys or (rare for me in the country, but fits the above picture) ride public transportation. Love is available to me, too, when I am exhausted, grumpy, and–at the end of a day–still need to pick up strewn toys and do the dishes (or leave them for tomorrow).
What's more is that these definitions of contemplation also have the capacity to name injustice. Contemplation is not flight from the world but flight to the heart of the world, which is, at the same time, the heart of God. The heart of God, the Scriptures tell us, breaks for those who are most marginalized and suffering. A long loving look at the real will hopefully awaken us, to use just one example, to the climate crisis that Mother Earth and all her inhabitants face due to human consumption of fossil fuels. Or, a glimpse of divine union while still embedded in systems of white supremacy reveals just how far we have to go to realize the spiritual fact of our oneness.
The present moment is ripe with contemplative possibility. This blog hopes to explore the zeitgeist moment with inter-disciplinary and ordinary reflections: social justice, the arts, biblical analysis, personal reflection, commentary on mystics will all find their place here because (as a blog title by creative festival visionary Gareth Higgins once said) "God is not elsewhere."
Subway photo by Karen Lau on Unsplash