Wisdom is a woman. In Proverbs eight, she is a teacher walking the streets. She cries out at city gates, or in analogous city squares today with neon, blinking signs, while we scroll our devices: pay attention! Wisdom's gleam lasts longer than jewels, she says, her depth cannot be bought or sold. She speaks about justice, laughs with delight, and marvels at the beauty and wonder of the cosmos.
Wisdom in Proverbs chapter eight is not something to be studied, or even basic moral rules to be kept—as important as those are. Wisdom, in Greek Sophia, is in the passage a creative, divine power inviting passionate delight. She says, "Yahweh birthed me before birthing the universe." (Proverbs 8:22).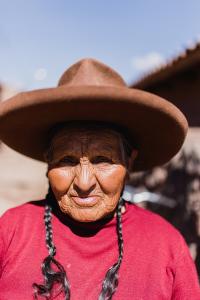 Wisdom is born before it all. Before mountains, hills, dust, dark matter and cosmic microwave radiation. Wisdom witnesses YHWH creating, measuring, employing an ancient, cosmic leveler to mark foundations (8:27-29). And Sophia-Wisdom is more than the spouse sitting by while Father fixes things, though, she is like a master workman herself, and she is rejoicing. The Scriptures tell that the universe starts with Wisdom and Joy. The universe is born through Wisdom and Joy.
Wisdom is profuse in the Hebrew Bible: it's a Jewish category, a name for God, a creative power, guidance for morality and justice. Wisdom, in books such as Proverbs, or the non-canonical (for Protestants) books the Wisdom of Sirach or the Wisdom of Solomon, or even aspects of Job, or the Song of Songs, Wisdom is present at creation, descends from heaven, takes up residence with us, roams streets teaching about YHWH's realm, teaches followers who are ready to receive, invites them to take her serene yoke upon them (Sirach 51:23-27), even to eat of her bread and drink of the wine that she has herself mixed (Proverbs 9:2).
Wisdom sounds a lot like a female Jesus.
John's gospel speaks of the Word of God in the beginning, paralleling Wisdom's birth. Luke and Matthew's Jesus says, echoing Wisdom's literature, "Come to me, all you who are weary and are carrying heavy burdens, and I will give you rest." (11:28-30) Matthew's Jesus identifies himself as wisdom at one point, saying, "Therefore, I [Wisdom] send you prophets and wise men and scribes, some of whom you will kill and crucify." (23:34, these examples come from this marvelous book by Denis Edwards).
That last verse from Matthew is a weird one. Jesus, through Matthew, speaks in a universal voice, claiming both to be the one sending and the one sent. Paul sees the crucified Jesus paradoxically as counter-cultural spiritual wisdom, and he has a bit of fun turning Proverbs's wisdom and foolishness categories upside down: "In the wisdom of God," Paul writes to the Corinthians, "the world did not know God through wisdom, God decided, but through the foolishness of our proclamation, to save those who believe" (1 Corinthians 1:21). We became fools for Christ, for living Wisdom, he is saying.
Wisdom matters. Wisdom is creative. Wisdom is powerful. Wisdom is divine. Wisdom is female. Wisdom is compassionate. Wisdom is 
ecological. 
Wisdom is 
cosmic.
The sacred scope of Jesus Christ brings together the local, and the universal; the ecological, the human, and the cosmic. Jesus is a first century nonviolent revolutionary leading an uprising of love; but also as Fr. Richard Rohr frequently says, "Christ is not Jesus's last name." Christ is the spiritual presence at creation, and ongoing through creation. "The Big Bang is the First Incarnation," Richard Rohr likewise exclaims.
What is needed in our time, I'm convinced, is a spiritually vibrant cosmology. Cosmology throughout cultures and religions is far more than a specific scientific discipline of studying the galaxies, although it is this, too. Cosmology has to do with the way that we understand our lives in light of the whole, in the light of reality. If faith in Jesus Christ does not do this for us, then our religion is too small.
A living cosmology, mystic-activist Matthew Fox tells, forms when the sciences, the arts, and mysticism meet. Christ is a way of affirming what the arts and the sciences stir in us—that there is more and that it really is all connected. Religions other than Christianity have different ways of describing the interconnected wholeness of reality; this is not to deny their validity and their truths. Christians, however, have Christ and both Christ and Wisdom are a way of talking about God's presence in all things and all things as participating in God. That means we can talk about science, affirm an evolutionary world, embrace the strangeness of quarks, and delight in the shape of our own lives, all while keeping a spiritual heart beating, too.
As Wisdom says, in a translation of Matthew's passage by Eugene Peterson, "Are you tired? Worn out? Burned out? Come to me. Get away with me and you'll recover your life. I'll show you how to take a real rest. Walk with me—watch how I do it. Learn the unforced rhythms of grace."
Photo by Persnickety Prints on Unsplash