Matthew Fox is a prolific writer, from whom creative spirituality passionately pours forth. His two recent offerings are not theological texts in his classic "Original Blessing" or "The Coming of the Cosmic Christ" vein; they are books to help us pray. But they are books that help us pray in the broad, deep, and universal way that Matthew Fox envisions prayer—as a radical response to life itself.
In Naming the Unnameable, Fox gives readers a devotional-style, small book of paragraph-length reflections exploring 89 different names for God. He takes inspiration, he says, from an Islamic practice of reciting 99 names of God, as well as Thomas Aquinas (and his commentary on Pseudo-Dionysius's 5-6th century The Divine Names). Fox includes a passage from Aquinas's book as an appendix, listing 49 names for God, such as: "good, beautiful, beloved, God of gods, holy of holies, eternal, manifest, cause of the ages, bestower of life, wisdom," and more.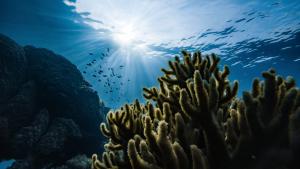 The book consists of Fox's unique, spiritually expansive names. He weaves together sources as varied as Deepak Chopra, theologian David Bentley Hart, Meister Eckhart and Hildegard von Bingen in searching the meaning of God as Love, Goodness, the One to Whom We Give Our Thanks, the Cause of Wonder, Mind of the Universe, Evolution and Pure Potential, Planetary Mind Field, Playing Intelligence, and much more. Following the Pseudo-Dionysian tradition of "apophatic" mysticism, in which God is always unnameable, Fox also includes 9 "Names for the God Without a Name," the Uncreated One, Superessential Darkness, the Great Mystery, and so on.
What emerges through the names, the naming beyond names, and Fox's stirring reflections are a powerful vision of a God for contemporary times. The names of God are rooted in Scripture and mystical traditions, and yet also stretch far beyond it to include contemporary science, multiple faiths, feminine and ecological dimensions of God. It is a book to pray with, and, for those with a ready heart, to broaden and change one's God-images, too.
The second recent book release (2016) from Matthew Fox is a gorgeous, coffee table prayer-meets-art book entitled Stations of the Cosmic Christ. Written with California Episcopal Bishop Marc-Andrus, the book dialogues with art from artists Ullrrich Javier Lemus and M.C. Richards.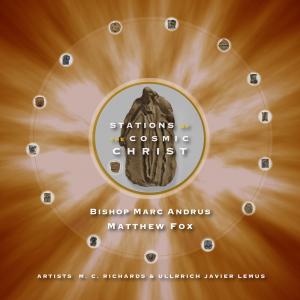 Taking inspiration from the traditional Stations of the Cross Good Friday liturgy, Fox's project is a response to the following questions: what if stations of the cross included not only the last hours of Jesus's life, but the major narrative-archetypal events, such as the Nativity, Baptism, Transfiguration, Crucifixion, Resurrection, Ascension and Pentecost? And what if stations of the cross did not only memorialize the historical Jesus, but created the possibility to encounter the Cosmic dimension of Christ (such as the "I Am" statements of John's Gospel)?
It's a remarkable creative synthesis, and the art and readings deserve to be incorporated into a regular prayer or meditation practice. Fox's brilliance here is the weaving together of art and spirituality—embodying the teaching of his Dominican mentor M.D. Chenu, who insisted that "you can't do theology without art." The cosmic stations are pottery and stone art tablets that form abstract, colorful interpretations of the Jesus journey. In my experience, as I gaze at the art while combining it with my meditation practice, my body relaxes into an intuitive receptivity, and I know that, just as the universe exists, the Cosmic Christ is alive today in me.
Photos: Marek Okon on Unsplash and www.matthewfox.com