The recent book Bless this Mess, the fruit of a team-up between pastor Molly Baskette and developmental psychologist Ellen O'Donnell, is a gold mine of spiritual wisdom, digestible psychological insights and practical tips for progressive parenting. I cannot recommend it enough. It has stirred and gently poked family spirituality stuck-spots for me personally, and will do so for many. There's been a glaring hole of accessible and spiritually wise books on parenting from a progressive Christian perspective. This book fills that gap, and then some. It's like a trusted manual to keep on your shelf and return to, again and again as you attempt to live the wisdom inside it.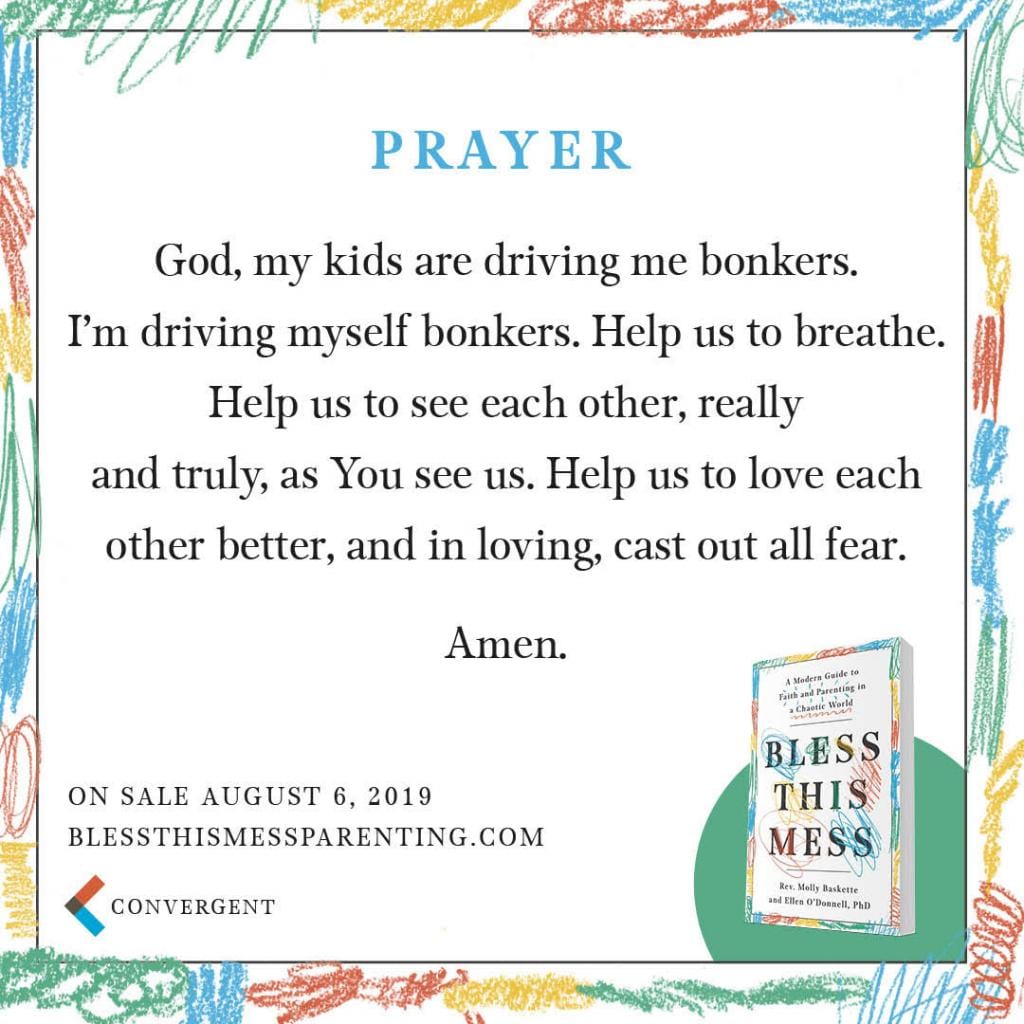 Bless this Mess starts with laying some theological-psychological foundations, such as spiritual and progressive parenting: not an oxymoron. Is Focus on the Family the only option for Christian families? Absolutely not—but, in my experience, progressive Christians in general haven't necessarily known how to reclaim and deepen our own spirituality, much less teach faith effectively to our kids. Thus the glaring hole of available resources.
The bulk of Bless this Mess is spent in invaluable "How-To" chapters, offering parents a values paradigm beyond binary good and evil, tips for fighting and forgiving, talking about money, service and community, the many talks about sex and drugs (rather than the one and done "talk"), and building in family rituals that align with the liturgical calendar/spiritual beliefs. Finally, the last chapter—not to be skipped—includes raw and courageous stories of parents who parented through addiction, cancer, self-harm, and more. Seriously, there's enough practical ideas and conversation starters for families here for a kid's home lifetime.
One of the guiding values of the book comes from the authors' interpretation/translation of Proverbs 22:6: Train the child in the right way, and when grown, they will not stray. This is an alternative proverb that contrasts with the devastating parenting advice a chapter later in Proverbs: "Spare the rod and spoil the child." Baskette and O'Donnell ask, "what is that elusive "right" way," and suggest that right way in the original Hebrew "hews more closely to 'according to them, their nature and temperament.'" (23) The modern translation might be, they say, "Train the child in their own way, and when grown, they will not stray." This rendering takes the verse out of the realm of black and white morality, obedience/disobedience, and into the realm of love, where Christian parenting should always be: raising kids takes attention and nurturing grounded in the reality of who they are. Which means that effective parenting requires know and radically accept our kids. That's an obvious statement—but sadly, one that countless Christian parents have missed.
Baskette and O'Donnell also offer a "holy trinity" that progressive spiritual parents can seek to offer their kids:
To feel autonomous: acknowledging that a parent's job is not to make all the choices for our children, but to encourage them to exercise and discern their own free will.
To feel competent: Grow with your kids according to their developmental levels of competency (i.e., they write: don't give your ten-year-old a toddler book to read or War and Peace) (32)
To feel related to those around us: affirming the basic needs that kids, and all humans, have to feel secure and safe in a network of family relationships.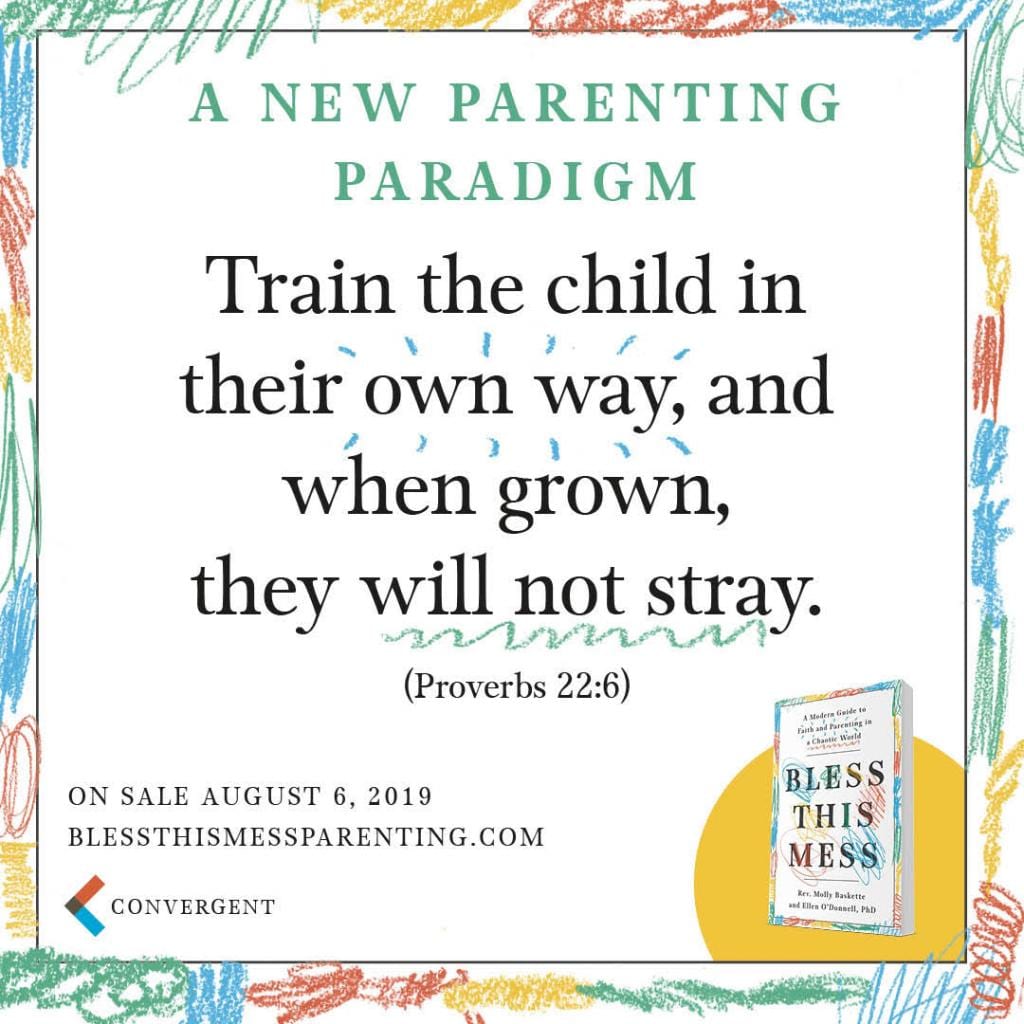 With those foundations set, the "How-To" chapters take off, and my, they are jam-packed with fabulous ideas. And what's encouraging is that the authors are not selling their ideas as the end-all/be-all. Their goal is to raise enough suggestions that they generate ideas to try out and experiment with in the readers' homes: How to handle allowances, and spiritual values of generosity? They suggest trying a threefold method of a third for saving, a third for giving, and a third for spending.
Ideas for community service? There are two pages worth, from "Buy high-quality protein bars and keep them in the glove box of the car to hand out at intersections where people are panhandling" to "Buy no new clothes or small appliances for a whole year (as a family). Put the money into a college scholarship fund for low-income students."
Running around from sports to committee meetings to piano lessons? They whole-heartedly recommend a Sabbath. Light a candle at night, eat dinner together, and play some board games. Do one activity instead of three, because your child needs to live their best life now, too, rather than just after they get into the school of the parent's dreams.
Worried about how to talk about sex with your child? They stress the importance of many talks about sex, and drinking and drugs, with your kids. What's more, is that following scientific research, they flat out reject abstinence only-education as harmful for progressive Christian kids and present an informed discernment, rather than rules, approach. Thank God. (The sex chapter alone is worth the price of the book).
Having trouble implementing spiritual practices at home? Just do it, you don't need to have a seminary degree! Pull out a crèche and tell the story of Jesus during Advent, burn leaves, mix some glitter in, and make ashes for Ash Wednesday, make dressing up a sacramental act at Easter (one of their houses gives the kids new socks and underwear in Easter baskets because "God is making all things new!"), pray simple prayers at dinner or bedtime, such as Anne Lamott's "Help, Thanks, Wow" categories, find a church that welcomes kids as the church NOW instead of the "church of the future." And so on.
I'm eager to jump into action and try many of their ideas. As a progressive parent, and a Christian clergy, I'll confess that it's become too easy for my family to be swept up in activity. Sometimes we're so hungry and harried at the end of the day that we forget to pray or take a moment of silence at the dinner table (we often let the boys ring the meditation bell, which works, for like ten seconds). The modern myths of Marvel Superheros are far more interesting to my boys than the Bible, and when we do read storybook Bibles together, they are inevitably more interested in battle stories like David killing giant Goliath with a slingshot than they are Jesus teaching about nonviolent love.
How to inculcate spiritual values and practices in them while honoring "their own way" (even if their own way eventually means leaving faith!)? This book will light a way for chaotic parents to shine a light on their children's unique way, all while teaching the inclusive, justice-seeking way of Jesus.