It is important to think of pregnancy as a process, not a condition… pregnancy changes you and your life on a deep level. – Arin Murphy-Hiscock
I am aware of exactly one book available for purchase right now specifically on the topic of Paganism and pregnancy. Arin Murphy-Hiscock wrote Pagan Pregnancy: A Spiritual Journey from Maiden to Mother years ago, and the book was finally released as an ebook just a few months ago.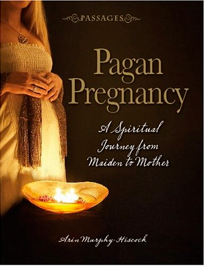 As soon as I saw the news I enthusiastically set to work getting the publisher to send me a copy so I could review it here for you all.
The book focuses on pregnancy, but also covers conception, birth, and the postpartum period, offering both wisdom and practical advice for the Pagan mama-to-be. If you like ritual/magical "recipe books" this is a great book for you, filled with detailed instructions on how to use tools such as herbs, candles, and stones in rituals for various pregnancy needs. Pagan Pregnancy is generic in its Pagan affiliation, offering Murphy-Hiscock's own ritual style and information about particular Goddesses from various pantheons without requiring affiliation with any particular tradition.
It's definitely woman- and Goddess-focused material. She writes, "Childbirth, like other women's mysteries, allows a connection to be made between the laboring woman and all her female ancestors, as well as her ultimate ancestor and mother, the Goddess." I especially appreciate Murphy-Hiscock's extended discussion of how the triple goddess is limiting as a model for real human women.
However, her discussion of "Responsible Spirituality" seems to me to be less thoroughly worked out. She wants to warn against exposure to dangerous ritual energies during pregnancy, but is also aware that a lot of what she says about this is speculation more than real knowledge. I worry that a culture of over-protection for pregnant women can lead to unnecessary removal of women from ritual spaces. Thinking this important issue through more fully is work that I think still needs to be done (hint to possible Pagan Families contributors).
Similarly, her discussion of natural childbirth and pain seems to me to not be fully worked out — in this case I suspect because she is trying to be inclusive and inoffensive. I will have more to say about these topics in a forthcoming publication TBA.
Murphy-Hiscock writes, "You can read books on pregnancy till the cows come home, but until you begin going through the pregnancy itself, you can't internalize the information." My experience tells me this is real wisdom. But she also says, "It is my deep hope that this book has somehow helped you throughout your pregnancy, " and as Pagan mama who read this book while pregnant, I can say that her hope has been fulfilled.
Have you read it yet? Was it helpful to you?
Arin Murphy-Hiscock. Pagan Pregnancy: A Spiritual Journey from Maiden to Mother. Avon, Mass.: Provenance Press, 2011.
Sarah Whedon teaches in the Department of Theology and Religious History at Cherry Hill Seminary and is the founding editor of Pagan Families: Resources for Pagan Pregnancy and Birth. Sarah's teaching, research, and advocacy work center around topics of spirituality, feminism, and reproduction. She makes her home in San Francisco with her partner and their children.