By Julianne Davidson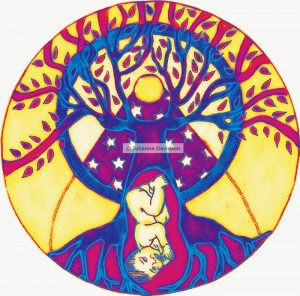 Birth art can help you understand how you envision birth at the deepest level. This exploration is like stepping into an ancient archetypal force and journey of self discovery. The actual process of creating birth art requires one to partake in the process of visualizing their birth. Consciously thinking about and imagining your birth aligns your goals, may set fears at bay and help you to understand true feelings about birth.
Birth art can be meditative, relaxing, problem solving and fun. You don't have to be a Picasso to create birth art! You can let it all flow and amazing things will begin to happen. Intuitive art is all about listening to your instincts and letting your heart out. What are your fears? What are your hopes? What are your dreams for this birth? With this belief, we can allow our inner voice to speak through our art.
Birth is a central focus of women's lives yet very few images of birth exists in the art world. I find myself being led to act as a storyteller creating a visual vocabulary through my pieces. I use mandalas in my art as for me, these circles are a symbol of creation; mandalas go deep into the subconscious and allow feelings and stories to come out. When I was pregnant with my first child, I practiced mindfulness meditation which helped me to go inside, into a meditative state and feel calm and relaxed. But I also wanted some visualization tools, to surround myself with images that would help keep me centred and focused. I began creating yantras, labyrinths and mandalas which put me in touch with my inner nature in order to prepare for birth.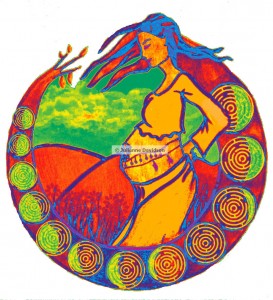 Mandalas can be an excellent way to prepare for birth, release fears and negativity we may be holding, turning an old story into a new positive one. My work celebrates the birth-giving capacity of women along with their creative spirit. They can also be used as visualization tools to help prepare them for a gentle birth. I wish to inspire all who have given birth, want to birth or who have been born or born again.
Julianne Davidson is a first time mother to be, an artist and a certifying doula based in the Mid North Coast of NSW in Australia. She's passionate about natural birth, informed choice and the holistic care of ourselves and our children. Juilanne believes every woman has the right to a safe and gentle birthing experience and the right to make informed decisions throughout their pregnancy and birth. Find her work at http://thebirthinstinct.com/.