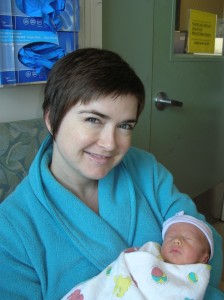 Sarah, our fearless editor here at Pagan Parenting, asked me months ago to review this ebook for the site. My first child was born six weeks premature and spent four weeks and one day in the NICU (neonatal intensive care unit). I admit that I've dragged my heels in reviewing this book. The topic of NICUs can be quite triggering for me; I kept waiting for some spacious period in case I had a hard time with content.
Turns out the only thing triggering about this book is the front cover.*
Janet Callahan has written a short pamphlet with advice for Pagan parents dealing with a NICU experience. It's a brief 22 pages, written more like a blog post than a literary book. This works in its favor, as it is easily accessible, particularly for parents in a stressful, possibly traumatic period.
Both of Callahan's children had extensive stays in the NICU. I expected her to share her story, but she says nothing of the details of her children's experience. This is not a book for sharing the emotional details of such a challenging period. Instead, Callahan focuses on practicalities. She offers advice about communicating with hospital staff, mentioning that if you dislike a nurse for any reason you can have them taken off your child's rotation. This section alone would have been helpful for me in my experience! While I had a very positive experience with almost all of the nurses who cared for my son, I did have one that I had to have pulled from our care.
Much of the content of this book will be helpful to any spiritual family with a child in the NICU. While the examples of altars and dream catchers may be Pagan specific, any family could set up items that make the isolette space more homey. Icons and shrine items could easily work for a Christian family. Callahan mentions using scent as another way to connect with your child, for example, sending a scrap of a well-worn nightshirt, so that the baby has your scent while you're away.
The one section I didn't like was the example of the Christian family in the NICU during Callahan's experience. Apparently the family authorized many members of their church to come in and lay hands on the baby, which got in the way of the hospital staff's care. Instead of presenting a section on what not to do, the story felt gossipy and demeaning to Christians.
If you or anyone you know is dealing with this experience, whether it's 2 weeks or 8 months, I think this little ebook could be quite helpful. It's short, easy to read, and my copy was only 99 cents. In fact, the four pages of resources at the end might be worth many times that to a family who needs more support.
The book is available here at Smashwords for .99, Amazon for $4.95 (paper format), and more links at Callahan's blog.
*I find pictures of NICU babies deeply triggering. I will not post the book cover for that reason. Instead, I have posted a picture of my own son, before he was hooked up to tubes and wires.