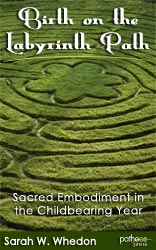 I can't believe my book is already one year old. But it is! Patheos Press released it into the world, into the Internet, into your Kindles and ereaders exactly a year ago. I'm so pleased to be celebrating Birth on the Labyrinth Path's first birthday with you all this week.
To celebrate, I'm going to share an excerpt of Birth on the Labyrinth Path, I'm going to give one of you a book, Wild Mother Arts is going to give two of you some gorgeous labyrinth jewelry, and we're going to talk lots about labyrinths and how beautifully they give us a spiritual map for pregnancy and birth. Ooh, and there may be more, so stick with us this week!
For starters, what is this little book I'm so excited about? It's a guide to an earth-based, body-honoring spirituality of the childbearing year. You can read a review from Jade Oakroot, a shout-out for the book on Niki Whiting's blog My Own Ashram, a post at Talk Birth in which Molly Remer quoted some of my favorite passages from the book (in the same company as a quote from Ani DiFranco!), or my guest post on Pantheon about why I thought the book was (and is) needed.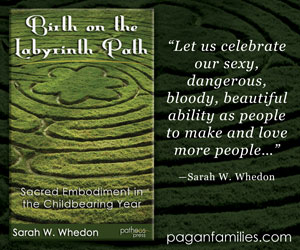 Convinced? You can be reading Birth on the Labyrinth Path in a few minutes for a mere $2.99. I pay more than that for my favorite cup of coffee.
You can also enter the Rafflecopter giveaway below and maybe win a free copy. Free!
Plus Wild Mother Arts is joining in the celebration and generously giving gorgeous gifts to not one, but two lucky winners: a pair of Labyrinth Birth Earrings and a Peach Labyrinth Birth Necklace.  Can you believe it?
From the description on the Wild Mother Arts etsy shop: "A beautiful, simple labyrinth hangs gracefully upon a beautiful peach hand-dyed silk cord with a matching bead… [And] Labyrinth earrings on sterling silver hooks match all of the items in my Labyrinth Collection. These are designed to be worn during pregnancy, labor and birth to symbolize the journey of childbirth which turns us inward… we travel one step at a time through the spiral of life, and though the path may double back, there are no wrong turns. We need only go forward in trust and love as eventually we meet our new baby and mothering self at the very center."
These photos are not the exact items, but they will be virtually identical.
There's more! Wild Mother Arts is offering us all a 10% off coupon code to the etsy shop that can be used until the end of June. The code is: LABYRINTHPATH2013 She's got fertility, birth, nursing, and goddess jewlery there. If you decide to order something and you take a pic of your lovely Pagan goddess self wearing it, I'd be thrilled to post your photo.
Sweet! So, to review: one of you will win the ebook Birth On The Labyrinth Path, one of you will win labyrinth earrings, and one of you will win a labyrinth necklace. Ok, beautiful Pagan Families readers, you're what makes this whole thing fly. Let's celebrate!