Today's profile of Christine Vermeersch is part of our series profiling people who work with pregnancy, birth, or the postpartum period (prenatal massage therapists, childbirth educators, OB/GYNs, doulas, midwives, lactation consultants, labor & delivery nurses, pediatricians, etc.) and are Pagan or work with a Pagan community. Check out the previous Birth Guardian profiles. If you would like to be a part of the series please send an email to paganfamilieseditor@gmail.com. Now here's Christine's profile.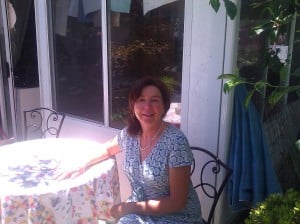 What kind of work do you do with pregnancy, birth, or the postpartum period?
I am a certified birth doula and I also incorporate Reiki and Aromatherapy into my birth work.
In what ways does Paganism affect your work?
I practice from a deep belief that a woman's body is sacred, that birth is sacred and that the womb is the sacred vessel that holds a new life. That woman indeed is the sacred chalice of life!
How can we honor what is sacred in childbearing?
We must honor the sacredness of childbirth by treating the birthing woman as a Goddess. One of my teachers Ina May Gaskin said it very well "If a woman in labor does not look like a Goddess, she is not being cared for!' I strive to make a woman look like a Goddess during labor. It is my greatest joy when a woman looks like a painting by one of the old masters, upon her face an innocent smile in her eyes the look of ecstasy.
If you could tell Pagans one thing about pregnancy or birth, what would it be?
Trust birth, trust babies!
You can find Christine at www.healinghandsdoula.com or chris_vermeersch59@hotmail.com