A weekly Wednesday Wisdom post — two or three quotes on a theme related to Paganism and childbearing, inviting us to meditate. This week in honor of Samhain, we observe how our descendants and our ancestors are intimately linked through us.
"The dead are our friends and family, our ancestors, who gave us life. We call them our 'beloved dead.'" – Starhawk, Diane Baker, & Anne Hill in Circle Round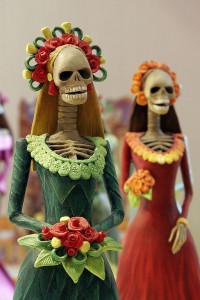 Earth Mama Prime
"I feel deeply connected with mothers everywhere. A million stand behind me, having birthed and raised their babies before I had my own. That current of Motherhood feels palpable. It's a kind of ancestor work that makes sense: I want to honor them and ask for their wisdom. I want their energy to be a part of my life, not something that I access only when the veils are thin." -Kira at
Ancestors, beloved dead, mothers and fathers behind us, generations to be born long after us… How do you remember and honor the ancestors?