Today my family is celebrating Imbolc or Brigid's Day and my kids are so excited! Corned beef and cabbage is in the crockpot, pound cake and
homemade custard are both cooling to make a "Fire and Snow" trifle for dessert tonight. My husband is currently making meringue cookies (had egg whites leftover from the custard!). We already made and ate oatcakes for breakfast and a braided "Bride's Loaf" is on the agenda to go with dinner. Last night my toddler daughter and I left out a mantle for Brigid to bless and we are planning to have a family ritual and celebration this evening. The resource I've been drawing upon for most of our ideas for today is Candlemas: Feast of Flames. On a related note, I'm also participating in DeAnna L'am's Red Tent Summit that began today and runs through February!
Our family's "word of the year" is CREATE and Oh. My. Goodness. We're so doing it! My husband and I have been working incredibly hard preparing to launch our brand new collaborative website: Brigid's Grove. Today was the big day! Our fresh website, free ebook, and newly remodeled etsy shop went live! We've been working on Leonie Dawson's Amazing Year workbook together since the beginning of this year and while I've been making birth art for a number of years and my husband and I began working collaboratively together on pewter casting in October, I'm amazed to consider that the very idea for our new website was only born during the first week of January and now…here we are. Not only is our site ready to go (still needs some work/development, but ready enough!), we also created our first digital giveaway kit, which evolved from a several page handout into 65 page resource kit for planning rituals and ceremonies. I can't believe how far we've come in less than one month in terms of focus! And, the fact that we're working on this together is so fulfilling. I've spent a lot of our ten years of shared parenting feeling as if we're just trading off—he works on his projects while I have kid duty and then we switch. It feels amazing to be equally invested in a beautiful shared project that we both believe it and are contributing our hearts and souls to.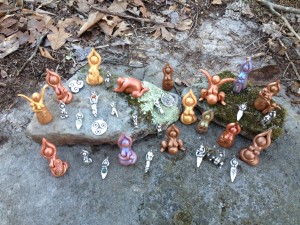 In addition to the free digital Ritual Recipe Kit, we've also got a discount code for our etsy shop, and giveaways going on all month long via the Brigid's Grove website and Facebook page!