The many writers here at Pagan Families convened for a Google video chat this morning. It was both a business meeting and also a gathering to see each other face to face, catch glimpses of small children, and hear each others' voices. Seeing faces and hearing voices really does make this world-wide internet-based life feel warmer and more intimate!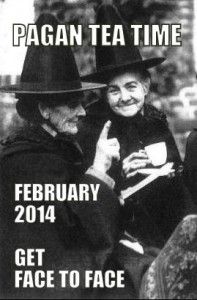 We talked about diversifying our posts and our voices. Things to look forward to on Pagan Families: more and more frequent posts; round robin style discussion, where several of us tackle the same topic; and a wider diversity of voices.
In direct action on the last point, we added our first male contributor this morning! Adam Blodgett, who writes from time to time on the Agora forum here at Patheos Pagan, will be joining us. Adam is a father to two kids (and one one the way) and identifies more as a magickian than a Pagan. In full disclosure, he is also my husband! He'll be posting once a month.
If anyone would like to schedule a Pagan tea time chat with one of the contributors, please don't hesitate to ask in the comments or on the Facebook page. I can't speak with certainty that all the writers here have the time or inclination to video chat, but we're all really nice and we're here to support Pagan families of all descriptions.