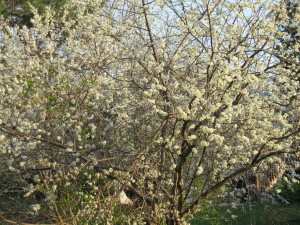 I live in Nebraska, the home of Arbor Day, and so we hear about it a lot! Ours is coming up this Friday, but the date varies by state – you can find out yours here. Growing up, my grandmother and I would plant a tree on her land every year around this time. There's something amazing about watching a tree grow taller and taller each year; after planting it, watering it, and caring for it carefully. These days I don't have the land to plant one tree a year, but I still feel it's important to not only take a day to honor trees and the amazing impact they have on our world – both physically and spiritually – but to pass that appreciation on to our children.
Luckily, Arbor Day is recognized in schools throughout the country. Since it's a point of civic pride, it's a particularly big deal here in Nebraska. The Arbor Day website also has tons of fun ideas for getting kids involved and learning about trees. At school here, the kids spend the day learning about the importance of trees to our lives, and the class usually gets to plant one on school grounds. When my daughter comes home, we spend the walk picking up trash and recycling in the park, and then we say a few prayers and leave gifts for the trees in our yard.
Beautiful trees, strong and tall,
we thank you.
For the air we breathe,
the shade that keeps us cool,
the wind in your leaves
that plays our summer music.
Beautiful trees, strong and tall,
with budding leaves
and flowering branches,
for all the gifts you give to us,
we thank you.