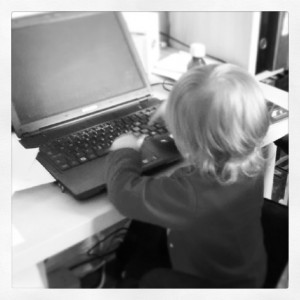 Since I was a child I have written, but the challenges of writing with babies and small children at home took me unawares. All through my pregnancy I wrote academic books and then as soon as my babies were born I had no idea how I was going to continue to write. Here are some tips that helped me, and positively changed my writing…
 Prioritise your writing – whether it's ten minutes or two hours, give yourself a pocket in the day to write. It's important for your sanity, for your well being and for you to be a good parent. Like all art or creative work, it fulfills a deep need. Don't discount it!
Don't judge the quality of your writing – its more important to be writing when you have babies than to think about whether it's any good. Do yourself a favour and turn off the inner critic. There's time for editing and revision. Leave that for later.
Write anywhere – write on the train, in the park, on the stairs in the dark, whilst sitting on the end of your toddlers bed, whilst nursing (my fave). Everywhere. Tiny people offer us tiny moments of introspection. Take them!
Write long hand, rather than on a phone or computer. Your writing will be different and the physical process requires us to think differently. Even if you only get 5 lines written it will feel as thought you have concretely achieved something. Our sleep deprived selves need this – so if we cross it out later, there is a record that we did it!
Get an ally – find a friend or an artist or writer, one person who can champion your writing in those early weeks and months. Talk to them weekly, ask them to be unequivocally positive and spur your forward. Set a schedule or 'wish list' for what you would like to achieve and then check in with each other about it. Have your ally remind you of your goals and your achievements. I did this with a friend who was an opera singer – we supported each other and it was a gift that kept me connected to the importance and value of my writing.

Set achievable goals for your writing – don't expect that you will be able to write a novel in six months when you have a one year old. Talk about writing goals in terms of chunks: "I will finish this chapter by Lammas", or "I will think about this issue and cobble some ideas by June". I look at my little 6 year old and my new book and know that their growth was concurrent. He loves that and so do I. Good things take time to grow.
Change it up – if you are used to writing academic documents, try your hand at poetry. If you were writing a novel, why not challenge yourself by writing song lyrics? Our brains are focused differently with small children. Babies and small children also require our flexibility. Let this apply to your writing self too. Sometimes being able to switch gears and free our writer's voice keeps us connected to the written word and you may (as I did) surprise yourself.
Listen to the radio – BBC NPR … So many of us don't have time to read when we have small babies, but you can always listen to the radio. The radio has the capacity to inspire us and connect to the outside world and you can have it on whilst you are doing all those important 'play on the floor with baby, clean bottles, do laundry, driving round the block to help them sleep' chores that seem to multiply when we have babies!
Give yourself a writers night out – use family, pay a sitter, beg a friend and if you can, and get out! Sit in a coffee shop and spend an evening writing, go to a literary event or research in the library. Whatever you do, make your writers night out fun, and something you can do alone or share with a loved ones.
Encourage other parents to join you – start a parents' writers group! I wish I had done this – put all the babies on the floor and discuss what you are writing , its challenges, and its joys whilst your kids roam around. Cry, moan, celebrate the joys and most importantly know that you are not alone!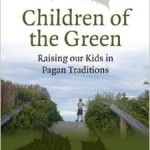 Happy writing, folks! by Hannah E. Johnston author of Children of the Green: Raising our Kids in Pagan Traditions.
Editor's Note: This post is part of the June Flash Points round robin: Beyond Mommy Blogging.