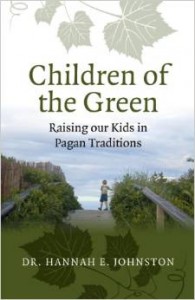 I'm so excited to announce that Pagan Families contributor Hannah E. Johnston has just released Children of the Green: Raising our Kids in Pagan Traditions.
In celebration of the new book, June's Pagan Families Flash Points round-robin topic is all about writing and parenting:
Beyond Mommy Blogging. How do you make time and mental space to write with babies or small children around? What factors do you consider when deciding whether to write about your children or other family members? Where do you read or publish work on Pagan parents and children – eg. blogs, magazines, books? Why do you write about Paganism and parenting?
Our regular contributors (including Hannah) will write on this topic throughout the month and we invite you to write on your own blog and share the link with us so we can publish your link and enter into dialogue with you. If you don't have a blog and want to participate we can also publish guest posts on the topic.
June Flash Points Posts:
Birthing The Mother-Writer by Priestess Molly
Top Ten Tips For Writing With Babies at Home by Hannah E. Johnston
Writing While Parenting by Janet Callahan
Read previous Flash Points here:
Find Children of the Green in the Pagan Families store.