Each month I look back over the great links and discussions we share on Pagan Families' social media and I compile the best and most enduring links and things in a monthly link round-up.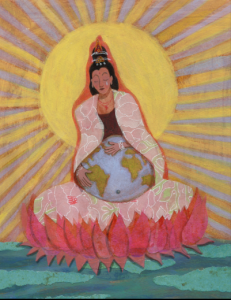 In May we celebrated the two-year anniversary of the Mother's Wisdom Deck. We held our second Flash Points round robin, on the topic of children and sexuality in Paganism. In honor of International Midwives Day, we looked back at Pagan Families articles about midwives. Patheos celebrated its 5th birthday and featured a Pagan Families post on the main #Patheos5yrs page. And Pagan Families turned 3. Happy birthday to us!
We read a lot of great posts around the Pagan web about bodies:
In the news: A fascinating new study about placental bacteria has implications for cesarean birth, use of antibiotics, even dental healthcare! The human body holds many complexities that scientists are still only beginning to unravel.
"It is essential to love ourselves no matter how our journey with fertility unfolds." –Tami Lynn Kent, Mothering From Your Center