[Written a year ago, but edited for better writing. I now have three children and am currently thick in the midst of post-partum recovery – and doing incredibly, surprisingly well this time around! Obviously, bodies are on my mind a lot these days, both mine and the newborn's. Humans are amazing.]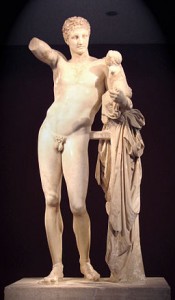 What a complex site of confusion is the body. As spiritual persons we have a host of understandings about it to unpack. As a female in the Western world there are even more complications and understandings to unpack. I'm not going to get too theoretical about either of these points, but instead, as this blog is designed to do, I will talk about my own experience and understanding of the body.
Many religious traditions proclaim that the body is a negative thing. That it is a hindrance on our path to enlightenment or salvation. It is a hive of warring passions, a host of unclean fluids and matter, an obstacle and nothing more. This is primarily a dualistic understanding of the world, that the body and all matter are separate from spirit. If we transcend our bodies, usually through renunciation or asceticism, we will be free from the enslavement of the physical world.
Some traditions embrace this world and all the various physical manifestations, seeing the physical as a site of pleasure and joy. If one sees the divine in all, then my toe and that tree and your cat are all embodiments of the divine. This can lead to a couple of different ideas, one being that anything pleasurable goes, and some ideas involving all things in moderation.
Some spiritual traditions don't talk much about the body either way. But if you dig deeper almost all traditions come down somewhere into the two camps. And most of them fall into the first, body-negating one.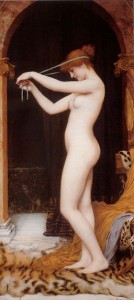 As a female in the Western world there are numerous other layers of body issues on top of the bedrock of philosophical and religious tradition. Most of the discourse is dualist in nature. Almost all of it says that the female body is dangerous. Even with the comparatively hedonistic sexual flaunting – the use of female bodies for selling things and entertaining in movies and pornography – the female body is an object used by patriarchal forces for their benefit, never for the female's benefit or enjoyment. The body is definitely used as a snare, but we are also supposed to have heroic spiritual self-control. It's all very confusing.
In my chosen traditions the body and spirit are neither dualistic entities at war with each other, nor are they one and the same. I see the body as a gift. Embodiment is full of beauty. Some say that the spirits envy us our physical existence. We get to smell, touch, taste, feel. My body is my vehicle, my tool, but not some mechanistic flesh that does my mind's bidding – again, a dualistic perspective. Ideally, my body and my souls work in concert for good of all my parts, to further connection among those parts, and with other creatures and spirits.
Of course, our bodies and our senses can also mislead us. Too much of a good thing becomes no longer a good thing. Too much wine dulls our pleasures, too much food makes our stomachs hurt, too much sleep can leave us groggy, etc. And our bodies often 'betray' us. I am lucky that I have no overriding health issues. I do have whiplash in my neck and a jerky movement can leave me in mild pain for days. That sucks. It is hard, not just because I hurt, but because it keeps me from feeling at ease, hindering my ability to be present, keeping me from picking up my children, from connecting with my partner (I can't tilt my head up to kiss him, sometimes not even on a pain-free day!). Pain hinders us from connecting; connection is, in my view, the core aim of the spiritual life. I have a greater amount of compassion for my friends and others who experience pain and discomfort, chronically or acutely.
I spent several of my teen years and early adulthood using my body as a site of control. I felt I had so little control over other aspects in my life, but I could control what I ate and how fit I was. That obsession was a form of superiority (countering fears of inadequacy) and self-punishment (because I could not conquer my anxiety). I look back and while I was very healthy, I was also very, very hungry. An apt metaphor, as well as a physical reality.
I will admit that these days I tend to struggle with fasting and austerities. I sometimes look back at my past and wonder why I can't be as disciplined as I once was. But I see that I love myself so much more now. Not in a self-righteous way, but in a fuller, more complete way. The strength of my discipline as a young adult was not coming from a place of love or health, but one of grief and fear.
I also see that I have given up many things in my life already. I can't eat gluten and so as an act of love for my body I do not eat wheat in any form; there are many things I miss, homemade bread, French pastries, and fresh pasta among them. I have gestated, birthed, and nursed two children – that is austerity and sacrifice indeed. I am getting older and that combined with recovering from birthing drives home the fact that my body is not in my complete control. I am blessed with a healthy body that responds well and quickly to exercise. I am fit and healthy, but there is a humility in letting go of looking like my 25-year-old me. Even as every image in the Western world tells me that I should look 25 for as long as possible. That my worth is a youthful, slender body.
And after all this suffering and controlling and negating our bodies (or reveling in) – we die. Sometimes we die suddenly, sometimes the body gets sick and slowly falls apart.
Christian theology views death as proof of sin. Adam and Eve would have lived for ever, but were cursed with toil, suffering and death. 'For the wages of sin is death.' That is no metaphor. Classical Christianity sees that as a physical truth. I think it is nonsense. At best, it is a metaphor. Pain and suffering of any kind are indeed a form of sin. Most of us suffer thanks to systemic sin. The Bible isn't joking when it says we suffer the sins of our fathers for seven generations. Cycles of abuse, poverty, environmental degradation – all of those things lead to webs sin, and they lead to disconnection and death.
However, we live in a world governed by physics, biology, chemistry. There is no life without death. We must eat, and whether that's a carrot or a cow, something must die for something else to live. One animal's defecation is a dung beetle's joy. One rotting apple is another organism's home or lunch. To think that the earth and humans could exist without death is baffling.
My body is a site of connection. I am my own world tree, the axis of my universe. I am both my body and not my body. If I gain 100 lbs or lose my legs or get burned in a fire, I will still be me. And not me. But this embodiment is all I know at this point.
I know that if I need to I can withstand and benefit from austerities. But why impose them if I do not need to? The world has sufferings enough as it is. I was hungry for several years for no good reason. Why not wait for a good reason? From this bodily axis in the universe I connect to that very same universe, and to you. I cannot transcend my form. Even if I gain enlightenment tomorrow I am still tethered in this body. And what a joy and a privilege that is.