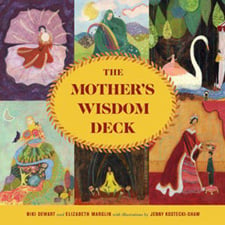 I immediately resonated with the beauty of online images from the Mother's Wisdom Deck created by Niki Dewart, Elizabeth Marglin, and Jenny Kostecki-Shaw, so I was thrilled when I wrote to ask for a review copy and they mailed one to me right away.
My kids participated in opening the deck and the preschooler immediately spread the cards out across our rug – a great way to begin to interact with a new deck.
The four suits of this deck are a bit unusual: Natural Mother, Animal Mother, Ancestral Mother, & Divine Mother.  Cave and Rainbow are some of the cards in the Natural Mother suit.  Animal Mother includes Butterfly and Turtle.  Ancestral Mother ranges from Curandera to Queen Victoria.  Divine Mother features goddesses like Demeter and Kuan Yin.
These cards speak to me of motherhood, of truth, of pain, and of beauty, and the accompanying book offers interpretations, including reverse/shadow readings.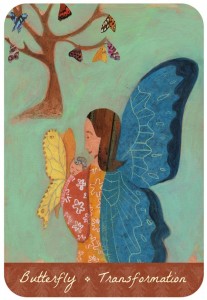 The Butterfly card section begins, "Butterfly is the winged messenger of Transformation.  She alights when you are in the grit of transition, nose to the grindstone."  A range of relevant motherhood experiences present themselves – having a baby, weaning from breastfeeding, going back to work after a postpartum leave, sending a child to a new school, or perhaps the period of labor before the pushing stage which is known as "transition."
An oracle deck for a particular population raises questions for me. Where do fathers and grandparents fit in?  Will they appreciate this deck? Do they need their own deck? But I also appreciate how these cards could speak to a range of mothers – from those trying to achieve conception to those facing an empty nest, birth mothers to adoptive mothers, fat mothers, thin mothers, brown mothers, white mothers… You get the idea; I think you might like to get the deck.
Note: I received a free copy of the deck and book for review purposes, but the opinions here are my own.
PS. Like something we review here? You can pick up a copy for yourself or a loved one in our Amazon store.