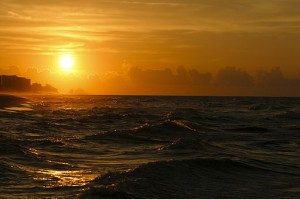 It's Solstice week, and I'm scheduling this post in advance because when it publishes I'll be headed to the airport to join friends and family for some solemn candle lighting, joyous feasting, and more than a little tearing open of presents by the children.
When we light the Solstice candles, and tell the story of the Mother goddess pushing out from her swollen body the brightness of the new baby Sun, I'll be thinking of those of you divinely human mamas who are getting ready to dar a luz. That's give birth, in Spanish, literally to give to light.
If I'm a little slow to answer comments or emails in the final weeks of the year, it's because I'm traveling and celebrating. As the light begins to last longer, and I return from my travels, I'll be more present again here. Be well!
Image by Brian Jeffery Beggerly (Flickr: IMG_2083) [CC-BY-2.0 (http://creativecommons.org/licenses/by/2.0)], via Wikimedia Commons