By Meg Yardley
This post ends my series of picture books for each of the eight Pagan holy days. It's been a wonderful journey for me and I hope it has provided some useful spiritual resources for you as well. Stay tuned for more picture book posts on other Pagan topics over the next few months!
Lammas (from "loaf-mass"), also known as Lughnasadh in honor of the Irish god Lugh, is a festival of Celtic origin celebrating the first harvest – of corn, grain, and fruit – and the power of abundance. It is a time to enjoy our family and community and appreciate what we have. There are many wonderful kids' activities to celebrate this holiday. Making corn dollies is a way to honor the harvest; traditionally they could be made out of any grain (such as wheat) but there are also traditions in the Americas of making dollies out of corn husks. Here are instructions for making a corn dolly out of corn husks. Bread baking is another traditional activity which can be both mundane and magical. I came across this initiative from England called

Some book themes related to Lammas could include:
Late summer – The "dog days" of August, and summer's end.
Corn, grains, and harvest – There are so many great books celebrating corn and other grains, and the joy of harvesting food. Many of these are appropriate for either this holiday or the Autumn Equinox. I love "Up, Down, and Around" by Katherine Ayres, a rhyming book for toddlers and up which celebrates the harvest of garden plants that grow up (corn), down (carrots), and around (pumpkins). Older preschoolers may appreciate "The Harvest Birds/ Los Pajaros de la Cosecha", a bilingual story by Blanca López de Mariscal where a poor farmer named Juan uses his connection to birds to learn about farming in rhythm with nature.
Gratitude and abundance – Any books about giving thanks, feasting, making a lot from a little (think "Stone Soup"), or appreciating what we have are timely here. For some humor, you might appreciate "Ananse's Feast: An Ashanti Tale" by Tololwa Mollel, in which the spider Ananse tries to avoid having to be generous and share with a neighbor… only to have the neighbor use his own trick against him.
Here are my picks for picture books to celebrate Lammas. It was surprisingly hard to narrow down my choices as, fittingly, I had an abundance of fabulous options!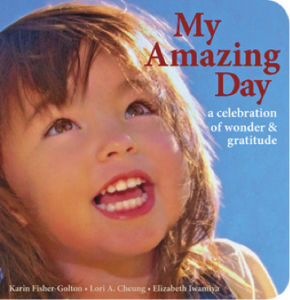 My Amazing Day: A Celebration of Wonder and Gratitude, by Karin Fisher-Golton, photos by Lori A. Cheung, design by Elizabeth Iwamiya

This board book recounts a toddler's day in photographs, portraying a sense of wonder at the beauty of small everyday moments from the toddler's point of view (for example, a photo shows the child playing "airplane" on a grown-up's knees and the caption is "I flew!"). At the end of the day, the book revisits all the moments expressing gratitude for each one: "Thank you, banana. Thank you, bath…" The gorgeous, bright photographs are both appealing and evocative, likely to bring out a smile as both children and adult readers remember similar moments in their experience. For babies and up.

Pagan Notes: Lammas, as the first harvest festival, is a wonderful time for giving thanks and being glad for what we have, and this book could be a perfect accompaniment to a special harvest meal. There has been a movement in recent years toward teaching children explicitly about gratitude. The research has focused on how it can increase feelings of happiness. While I enjoy complaining as much as anyone, I find family rituals of sharing gratitude can be a wonderful way to cultivate a sense of the sacredness of everyday life, as well as an antidote to the consumer culture of dissatisfaction. Gratitude rituals can be as simple as going around at dinner time and sharing what each person is feeling grateful for that day, or can involve more elaborate offerings of thanks to gods, goddesses, the earth, and/or Spirit, on household altars or in special outdoor places.

Full, Full, Full of Love, by Trish Cooke, illustrated by Paul Howard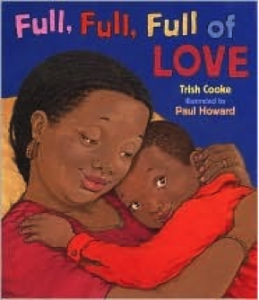 In this sweet book, a little boy is visiting his grandmother's house and waits impatiently for dinner time as members of the extended family slowly begin to arrive for the meal. Finally everyone arrives and the family shares a meal together full of joy, affection, and closeness. Although I wished someone would give this hungry kid a little snack so he could make it until dinner (in the book, family members redirect and distract him as he waits for the food to be ready), I loved the portrayal of a close-knit family preparing to enjoy a meal together.

Pagan Notes: Lammas is a wonderful time to honor the sacred act of sharing bread with one another. In most spiritual and religious traditions, the sharing of food is a special ritual that creates relationships between strangers (in many cultures, breaking bread with someone creates social obligations) and reinforces relationships among kin.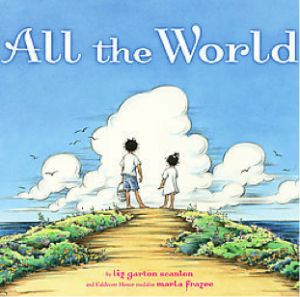 All the World, by Liz Garton Scanlon, illustrated by Marla Frazee

I'll try and describe this Caldecott Honor book to you (…but really you should just get hold of a copy right away): An extended family on a summer's day, moving through adventures from morning till night; glorious illustrations with vividly drawn details but also a sweeping sense of the big picture; poetic, rhyming text celebrating both the little things in life and the big things; images that represent this family and community including same-gender couples, interracial families, babies and elders. The first few pages, showing the family at a beach, read: "Rock, stone, pebble, sand/ Body, shoulder, arm, hand/ A moat to dig, a shell to keep/ All the world is wide and deep." For toddlers and up.

Pagan Notes: The expansiveness of this book, the celebration of summer fun, the community togetherness, and the bounty of the farmers' market all say Lammas to me.

Summer's Vacation, by Lynn Plourde, illustrated by Greg Couch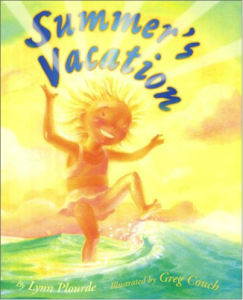 I just discovered this book, which is part of a series for the four seasons, and I'm excited to check out the others in the series! This book features playful, rhyming text which portrays Summer as a young girl who enjoys all kinds of summer pastimes together with her Mother Earth and Father Time. However, despite their reminders to "do your chores," she puts off her chores until suddenly she realizes the earth is looking brown and dry. After some tears, she puts things to rights and the earth is green again. The rhymes are a little uneven, but I liked the real-life feeling of the girl avoiding her chores despite reminders, until she realizes the consequences. I loved the illustrator's unique portrayal of Father Time with celestial cogs and spheres. For toddlers and up.

Pagan Notes: This could be a great Summer Solstice read, but the dry and parched earth reminded me of late summer here in Northern California (especially in our current extreme drought), and of the issues of scarcity and abundance that are so strongly present at the holiday of Lammas. Also, the book's ending portrays the transition toward autumn.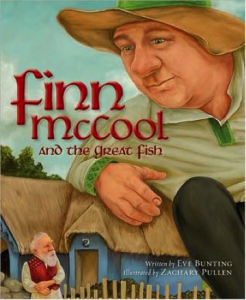 Finn MacCool and the Great Fish, by Eve Bunting, illustrated by Zachary Pullen

In this retelling of an old Irish myth, the giant Finn MacCool is big, strong, and kind, but… not too bright. He goes on a quest to find the salmon of wisdom and eat it so he can become wise and serve Ireland. But when he finds it, he is filled with compassion and doesn't want to kill the salmon. For preschoolers and up.

Pagan Notes: Since Lammas is a Celtic holiday, I wanted to include at least one story from a Celtic culture, and my family really enjoyed this one. Lammas is also known as Lughnasadh after the Irish god Lugh, who famously sought entry to the hall of the gods for each of his many talents (as a poet, a warrior, a carpenter, a healer…). For each he was refused, because there was already someone with that talent among the gods. Lugh finally gained entry when he asked "But do you have anyone who is master of all these talents?" and they had to admit they did not. I was reminded of that legend when I read this story and thought of Finn trying to seek the sacred salmon of wisdom in order to be strong, kind, AND wise. In the story, his kindness makes him worthy to receive the sacred wisdom. At this time of harvest, may we all sow kindness and reap wisdom at the end of our labors.

The First Tortilla, by Rudolfo Anaya, illustrated by Amy Córdova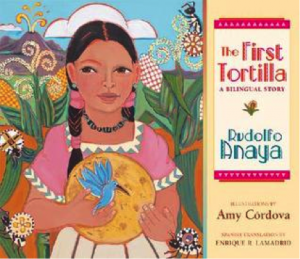 This bilingual story set in Mexico tells the story of how people came to eat corn and make it into tortillas. Young Jade, guided by a blue hummingbird, seeks a remedy for the drought and famine affecting her village. When she makes an offering to the Mountain Spirit, she is rewarded by an introduction to a delicious food called corn; she quickly figures out how to make it into pozol, masa, and tortillas, and shares her knowledge with her neighbors. You can see from the cover image here that Amy Córdova's colorful, richly detailed images are a feast for the reader's eyes.

Pagan Notes: Lammas is a wonderful time for celebrating corn, one of the great native plants of the Americas. As we read this book, my child was surprised to see the blue and red corn Jade collects, and I was reminded that the yellow and white varieties we eat are just the tip of the iceberg of the many diverse types of corn available in North America. Although the central offering in this book might be based around superstition (the idea that we're having a drought because we didn't perform the proper rituals), there is an underlying deeper truth about the need to respect and honor the earth we live on.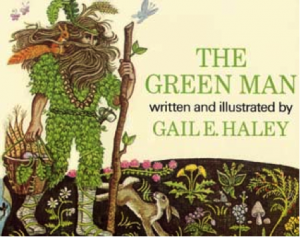 The Green Man, by Gail E. Haley

Okay, I saved my favorite for last. This older book is out of print but you might find a copy at your local library, or a used copy (I see a few on Alibris right now for low prices) – it's well worth your time and expense! In a medieval village where legends about the Green Man abound, a rich, arrogant youth gets stranded in the woods when someone steals his clothes while bathing. He finds shelter in a nearby cave and gradually makes his own clothes out of leaves, gathers his own food, and starts to help animals and people in need. He is transformed into the Green Man in the eyes of those he encounters. Finally, he takes another bather's clothes (leaving him to become the new Green Man) and returns home to his family, where he is now ready to take on adult responsibility and be a true, generous steward of the land. For older preschoolers and up (this is a fairly text-heavy book). You can see some of the gorgeous illustrations on the author's website – here's one example: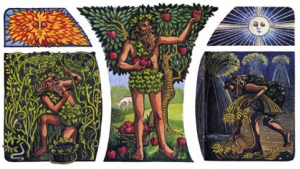 Pagan Notes: This story tells of an initiatory experience which also serves as a rite of passage, taking a young man from youth into adulthood. The character undergoes a personal transformation from a sense of entitlement to a deep gratitude and willingness to serve and help others. I love this book for Lammas reading as it focuses on gratitude for what we have and finding generosity and helpfulness in our hearts for anyone in need.

Meg Yardley is a Pagan and a parent of two young children, living in the San Francisco Bay Area. She sings with the Turning Earth Singers, a Pagan music ensemble which recently led a "Pagan Kids' Song and Story Time" workshop. She appreciates pictures books as a wonderful spiritual practice parents and young children can share.

Editor's Note: You can find books reviewed at Pagan Families in our Amazon store.