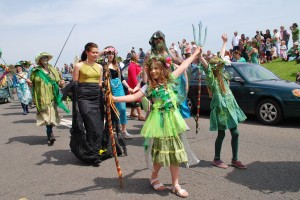 I am very active in my local Pagan community – I'm a member of a few groups, regularly attend a few more, and host the occasional public ritual at my home. My sort-of dirty secret is that I don't do these things for me, not completely; and I don't do them to completely selflessly build community. Honestly, I was pretty satisfied with my personal daily practice, and didn't feel a need for much else. One of the huge reasons I'm so involved with public Paganism is children.
It didn't quite occur to me until my eldest daughter started preschool. She was religiously very different from her friends; not because she was being raised by a Pagan and an Atheist (though obviously that's a factor!), but because she didn't have any sort of religious community. Of course, she'd watched me do my devotionals and prayers, but it didn't compare at all to the experiences her friends were having every Sunday morning at a church with programs made specifically for them.
I've talked before about the importance of children's programming or involvement in ritual, which is something my Protogrove is actively working to achieve; but that's not even the biggest part of it. Just being there, seeing other people share in this ritual structure, is itself such a powerful thing for children. Seeing twenty grown-ups gathering together for Sumbel, toasting the same Gods Mommy hails in the mornings, gives my religion a legitimacy that she just didn't understand otherwise.
This is probably the biggest reason I've found my spiritual home in Ár nDraíocht Féin (ADF). The organization has a commitment to public, open ritual – open to children, to whomever! And this is my commitment as well. That my children, no matter their spiritual path through life, will always have a place to come back to that will welcome them for who they are. That any feelings they have of being "weird" or "too different" will be calmed when they enter this space of like-minded people. Because no matter how much the world outside howls at them (and sometimes, it can get pretty loud), they have a sanctuary where people – not just parents, but a group of people – understand what they're going through because they've endured it themselves. I know that a lot of grown Pagans are very thankful for moments like these in their spiritual lives; it's important to remember that our kids need them too.
photo courtesy of shutterstock