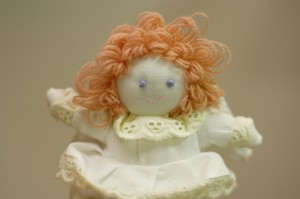 Imbolc is the Pagan holiday that often gets the least press, often because people aren't really sure how to relate it to their modern life.  Milk is great, but when it's available year-round, it's hard to get excited about its coming.  Here's some fun alternative ideas for a fun Imbolc with children!
1. Making a Brighid's Cross – this ever-popular Imbolc craft is great for older kids and younger ones with parent help.  It can be done with reeds, straw, or pipe cleaners; whatever you have on hand!  This youtube video shows how to weave the cross together to make a beautiful decoration for your Imbolc altar.
2. Rowan and Red Thread – up until the last century, making charms of protection on Imbolc was a very important Scottish custom.  If you don't have a rowan tree handy, any wood associated with protection will do – oak is much easier for those of us in the midwest!  We usually do a simple God's eye style weaving of red and white yarn for both protection and purification around the sticks.
3. Decorating and Welcoming The Brideog – an old Gaelic tradition involves the decoration of a little white doll.  If you're feeling extra creative, this can be made from straw as well, but I usually sew up a white dress for one of my children's dolls and we decorate it with fabric markers, beads, and found objects.  After she's well decorated, the children will parade her around the outside of the house, and then formally welcome her in.  Though traditionally she is given a special bed by the fire, we let her sleep in our children's room.
4. Brighid's Wand – in the Carmina Gadelica, it is said that Brighid ushers in the spring with her white wand.  Traditionally, one would be placed beside the Brighid doll as she slept.  Take a walk around the neighborhood looking for fallen branches – birch and ash will be the whitest, but color isn't as important as the wand itself.  Peeling the bark will take some assistance for younger children, but they can decorate the wand all on their own!
5. Blessing the Home – a popular tradition in modern Paganism is to light a candle at the hearth (this can just be the kitchen!) and carry it all throughout the home, blessing the space as you go.  This can be done with incense or an LED candle as well if your children aren't quite big enough to be carrying a lit candle about.  Welcome in the Goddess Brighid or whatever hearth or family deity you honor to give your family strength and protection in the coming year.
image courtesy of shutterstock