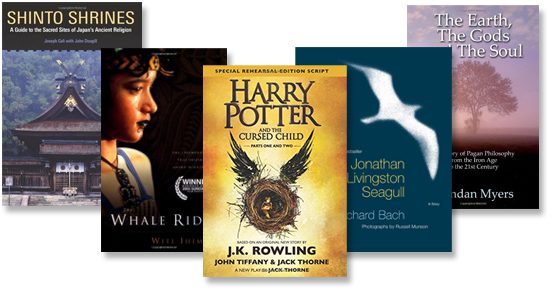 August is summer holiday time here in the UK so perhaps it's no surprise that I've been relaxing and reading a lot of fiction recently, as you can see from this month's reviews which include:
Richard Bach, Jonathan Livingston Seagull
Joseph Cali & John Dougill, Shinto Shrines: A Guide to the Sacred Sites of Japan's Ancient Religion
Witi Ihimaera, The Whale Rider
Brendan Myers, The Earth, The Gods and The Soul – A History of Pagan Philosophy: From the Iron Age to the 21st Century
J.K. Rowling, John Tiffany & Jack Thorne, Harry Potter and the Cursed Child, Parts 1 & 2, Special Rehearsal Edition Script
But which one have I awarded Read of the Month? Read on and find out!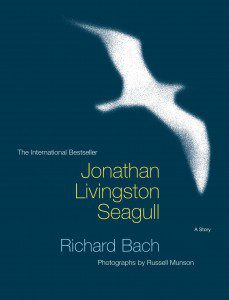 Richard Bach, Jonathan Livingston Seagull (1970)
Jonathan Livingston is a seagull with a difference. While other gulls see flying as simply a means of getting food, Jonathan loves flying for its own sake and sets out to master the technique – a decision that initially results in Jonathan becoming an outcast, but ultimately leads to enlightenment and the beginning of a whole new way of life.
Jonathan Livingston Seagull
is one of those best-seller books considered "must-reads" for anyone who sees themselves as spiritual. It's up there with Paulo Coelho's
The Alchemist
and Robert Pirsig's
Zen and the Art of Motorcycle Maintenance.
And like those two books, it's something of a motivational, philosophical "self-help" book. Through the metaphor of Jonathan, the reader is meant to be inspired to work hard and succeed in their dreams, no matter what others say.
What I actually found more interesting than this primary message was Jonathan Livingston Seagull's not-so-subtle criticism of religion – ironic considering its appeal among religious types. It is a warning against the rigidity of ritual, orthodoxy and superstition, suggesting that these things all hinder true spiritual development, which really comes from removing all barriers and being truly liberated.
But to be honest, that was really the only thing I found interesting about Jonathan Livingston Seagull. Perhaps this book is simply showing its age, but I didn't really find anything new or enlightening here. I came away feeling somewhat bewildered by the high acclaim this book has. But you might still want to check it out. It'll probably take you less than an hour to read, so you won't have lost much time even if you don't like it.