The top stories in Paganism and Shinto for Apr 29th- May 6th:
Japan lifts men-only rule from sacred 'bull sumo' ring
May Day celebrations see big increase in popularity in UK
Burning Man festival founder Larry Harvey dies
Read these and more stories below…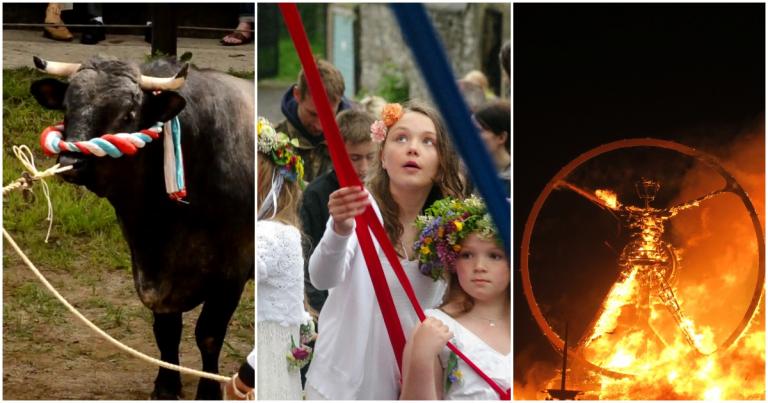 Pagan News
The Guardian: Maypole sales are up as May Day celebrations come back into style
Sales of maypoles are growing and the number of morris dancing teams is also on the rise, with crowds attending May Day festivals of a size not seen for decades…
Time Out: Atlantis Bookshop is Runner Up in Love London Awards
London's oldest independent bookshop on the occult has been awarded Runner Up in Time Out magazine's Love London Awards….
Herald Scotland: Thousands turn out for a fiery start to the summer at Beltane
The coming of summer attracted thousands of revellers to Edinburgh last night for the spectacular Beltane Fire Festival…
The Guardian: May Day celebrations in Glastonbury – in pictures
Although more synonymous with International Workers' Day and Labour Day, May Day, or Beltane, is celebrated by druids and pagans as the beginning of summer…
The Independent: What is May Day? How is it celebrated in different countries?
The traditions of the day have their roots in pagan festivals celebrating spring and fertility and the date has come to be linked to everything from maypole dancing to anti-capitalist protests…
DW: May traditions in Germany: Colourfully decorated trees, scary witches — and protests
Thousands of people, mainly women dressed in witches' costumes, gather together and dance around bonfires during the famous "Walpurgis Night."…
CitySpyPrague: Prague Bonfire Ban Spares Wooden Witches from a Fiery Fate
At this year's Witch Burning festival in Ladronka a spooky new five-meter tall witch was set to go up in flames at dusk. But when the time came to light the fire, a funny thing happened: the witch was saved…
Vice: The Occult Sex Magician Who Sent America to Space Is Getting a Television Show
'Strange Angel' will tell the story of Jack Parsons, the man who invented rocket fuel and spread the gospel of British Occultist Aleister Crowley…
Sunset: SoCal's First Witch-Themed Restaurant Casts a Spell
While owner and Executive Chef Lara Hanneman is a Wiccan herself, the true inspiration for the spooky theme comes from her background of theater production design…
The Wild Hunt: Interview with Rev. Donna Donovan on Accommodating Wiccan Prisoners
The Wild Hunt talks to the founder of Appalachian Pagan Ministry, which provides ministers to nearly 20 prisons in Ohio, West Virginia, and Idaho…
Shinto News
BBC: Japan bullwrestling: Women allowed into 'pure' ring after ban lifted
Women had previously been banned once the ring was deemed to have been purified with salt and rice wine…
Nippon.com: Religious Faith and the Emperor as a Symbol of the State
Does the emperor enjoy freedom of religion under the present constitution? This question is more difficult than it may seem…
Japan Times: State preparations get underway for Emperor's abdication
The committee, to be headed by Prime Minister Shinzo Abe, will set basic guidelines for the abdication and other related ceremonies, including steps to ensure they do not violate the constitutional separation of religion and politics…
Asahi Shimbun: Sumo's ban on women appears a centuries-long evolution
The Japan Sumo Association has repeatedly cited "tradition" in banning females from the dohyo ring, but when this ban took effect remains a mystery…
Japan Times: Banning women from the sumo ring: a centuries-old tradition or straight-up sexism?
Critics say the ban is based on Shinto and Buddhist beliefs that hold that women are "impure" because of menstrual blood, an idea criticized by many as sexist and outdated…
Other News
BBC: Burning Man founder Larry Harvey dies aged 70
Burning Man was founded in June 1986 when Mr Harvey and his friend Jerry Goodell burned a wooden man on Baker Beach in San Francisco to mark the summer solstice…
Japan Times: Stressed out? Bathing in the woods is just what the doctor ordered
Last month saw the culmination of more than a decade's research by Li into forest bathing distilled into a new book "Shinrin-Yoku: The Art and Science of Forest Bathing"…
The Guardian: Unleash the Burryman! Britain's weirdest folk rituals
A fanatical folklorist has spent a lifetime cataloguing Britain's strangest rites. He picks his five favourites, from blazing barrels and sacred pies to a May Day ceremony bigger than Christmas…
Japan Times: In Japan, Aibo robots get their own funeral
The robot dogs lined up in their dozens last Thursday in Chiba Prefecture were no tech fair display. They were the dearly departed being honored with their own traditional "funeral."…
Japan Times: Kungyokudo, Japan's oldest purveyor of incense, upgrades for launch of Tokyo flagship
The first branch of Kungyokudo, Japan's oldest incense supplier, opened near Tokyo Station on April 26…
The Mainichi: With 1 year to go till Crown Prince's accession, time to consider era name
While the era name at the time, Showa, remained in use with no legal grounds, Jinja Honcho (Association of Shinto Shrines) and other religious entities began a movement to promote legislation on era names…
The Sunday Times: Zen and the art of garden maintenance
No mowing, no weeding, no brown patches on the lawn: a Japanese-style design is calming in more ways than one…
Ghanaweb: Sagnarigu youth attack man they accuse of witchcraft
Some irate youth at Filling Point, a suburb of Choggu in the Sagnarigu Municipality of the Northern Region Wednesday night burnt down the house and property belonging to a 60-year-old man, who they accused of witchcraft…
The National: How a King made Scotland the witch-hunt capital of Europe
There were arguably few plusses for the general populace during the time of the English conquest of Scotland in the 1650s, but one benefit of the rule of Oliver Cromwell and General George Monck during the first 'Union' period was that for a short while, hardly anyone in Scotland was burned at the stake for being a witch…
The Independent: Kanso: The Japanese interior design concept that will help you achieve total zen
Similar to feng shui, kanso – which means simplicity – focuses on the flow and movement of energy within a space…
Cosmopolitan: This Harry Potter-inspired afternoon tea is perfect for any budding witches
A Harry Potter-esque afternoon tea is opening in London's Soho, and any budding witches or wizards need to grab their broomsticks and owls and fly over asap…