Top stories in Paganism and Shinto this week:
Stonehenge site 'damaged' by engineers working on tunnel
Netherlands' only Shinto shrine is recruiting shrine maidens
Pagans arrested for trespassing at Stonehenge speak out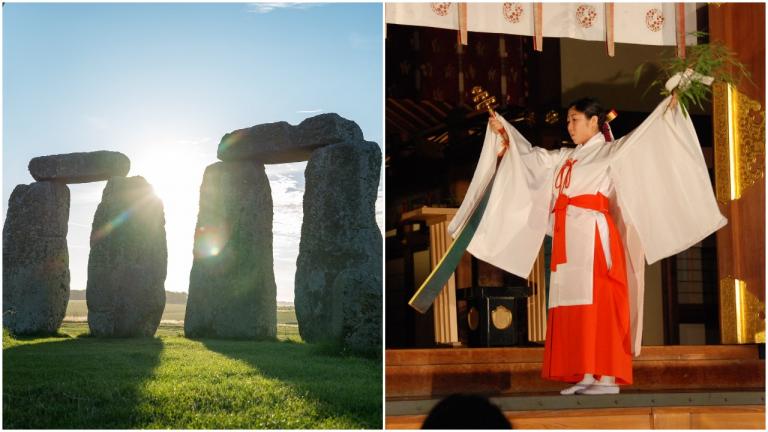 Pagan News
Pagans arrested for trespassing at Stonehenge speak out
The Wild Hunt
Maryam Halcrow and Angela Grace, identifying as witches, and Lisa Mead, identifying as a Druid, were found guilty of entering the site without reasonable excuse…
Krampus Spaß
The Wild Hunt
This past weekend saw a host of Krampus activity throughout Central Europe with more Krampus Nacht and Krampus Run events starting tomorrow and the coming weekend…
Detroit artists celebrate the mother goddess in 'Theotokos'
Metro Times
Detroit-based curator and artist Cyrah Dardas has brought together some of the city's brightest artistic minds for Theotokos: New Visions of the Mother of God, an exhibition centered around the concept of the divine feminine…
'I'm a young Druid, and this is how I celebrate at Christmastime'
BBC
Two young Druids spoke to BBC Three and explained how they celebrate the winter solstice…
The rise and rise of Wicca
Mercartornet
The astonishing growth of witchcraft in the US is a little-understood phenomenon…
What Millennial Witches Really Want
Patheos Pagan: For Puck's Sake
The rise of those who describe themselves as witches or pagans is at an all time historical high, as millennials turn to witchcraft and paganism in rejection of organized religions…
All the Witches They Could Not Burn
Boston Review
A woman's body is both a site of exploitation and a site of resistance. It is out of this vexed space that the witch is conjured…
Watch Hilda not Sabrina if You Want to Learn about Spirit Working and Paganism
Patheos Pagan: Dandelionlady
I'm gonna come clean and be honest with you. I haven't finished Sabrina. I didn't really like it…
13 Fascinating Winter Solstice Traditions Around the World
Reader's Digest
The shortest day and longest night of the year inspire mystical celebrations, both old and new, in anticipation of the sun's return…
Shinto News
The only shrine in the Netherlands is looking for a Miko-san
I Love Japan
The Japanese Dutch Shinzen Foundation is recruiting shrine maidens for the New Year's Day celebrations…
Business cards laid to rest at Shinto shrine
NHK World
A ceremony to show appreciation for no-longer-used business cards has begun at a Shinto shrine in Tokyo…
Chichibu Festival: Thousands Flock to Tokyo Outskirts for Those Colorful Floats
JAPAN Forward
The Chichibu Festival has a remarkably long history – it is said to date back 300 years…
Paying for the Daijōsai
Mimusubi
"Personally, I think Prince Akishino is right. State funding for the Daijōsai is sleight of hand to get around the constitution, and outside the range of what I think a government can morally justify spending tax income on. I think it would be better if the Daijōsai were not funded by the state."
Prince Akishino raises valid point on ritual funding
The Japan Times
Prince Akishino's recent remark questioning the government decision to use state funds for a key Imperial family ritual following the ascension of the new emperor next year may rekindle the discussion over separation of state and religion under the Constitution in connection with Shinto-linked Imperial rituals…
Other News
Stonehenge site 'damaged' by engineers working on tunnel
BBC News
Road workers have been accused of damaging a 6,000-year-old site near Stonehenge as part of preparations for a controversial tunnel…
Harry Potter blamed for rise in exorcisms as priests say interest in magic is behind spike in 'demonic possessions'
The Sun
Priests in the US claim that the franchise's interest in magic spurs "demonic possessions"…
Blick Mead 'damaged' as work starts on Stonehenge tunnel, archaeologist says
Salisbury Journal
A SIX-thousand-year-old site is reported to have been "damaged" by workmen starting preparations for the controversial Stonehenge tunnel plans.
Scottish alchemy exhibition to conjure up visitors
The National
Secrets of the Philosopher's Stone, which features rare and antique materials, opens to the public at The Royal College of Physicians of Edinburgh…
Festive Satanic statue added to Illinois statehouse
BBC News
Placed between a Christmas tree and a menorah, the four-foot sculpture depicts a snake coiled around an outstretched arm holding an apple…
What are fairy forts? Why do they still exercise power over the Irish?
Irish Central
Scattered around the Irish countryside the mysterious fairy forts have the power to curse those who cross them and even affect the weather…
Meet The People Trying to Keep Assam's 'Witches' Alive
Vice
In a large part of Assam, it's not easy to support a man or woman who has been accused of witchcraft—a prevalent superstition which has taken the lives of at least 193 people between 2001-2017, almost always at the insistence of witch doctors or quacks, locally called ojha, bez or deodhani…