Top stories in Paganism and Shinto this week:
Church burning suspect venerated Norse Goddess
Druid 'natural childbirth' midwife in prison after newborn dies
Shinto exhibition opens in Cleveland
Read more below…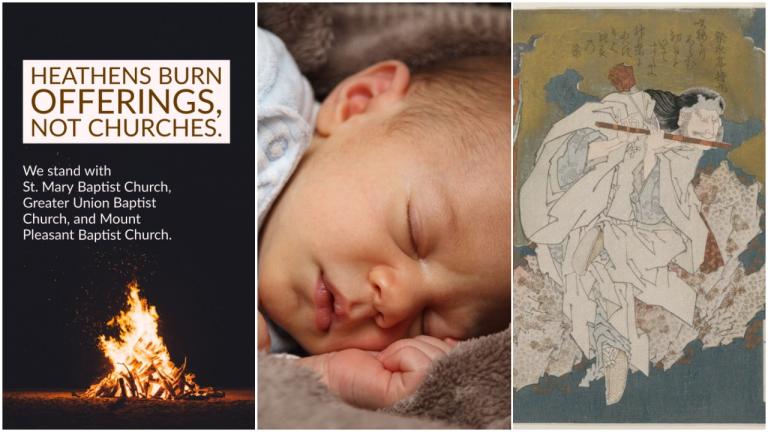 Pagan News
Church fires suspect built altar for pagan god
Daily Advertiser
Matthews bills himself online as a singer/songwriter for a black metal group and once described making a "life offering" to the Norse goddess Hel, who oversees part of the underworld in Norse mythology…
Heathens Burn Offerings, Not Churches
Patheos Pagan: Melissa Hill
Today I saw pagans in online forums complaining that people would expect various pagan organizations to speak out. I saw people say that we should quietly send money to those churches and not be loud about our opinions. This is not a time for silence…
White Supremacists Have Weaponized an Imaginary Viking Past. It's Time to Reclaim the Real History
Time
This neo-pagan resurgence intersects with many facets of extremism today, from eco-fascism — another term the Christchurch terrorist invoked — to groups like the Odinists, who practice a form of white toxic masculinity based on the belief that the "barbaric" warriors of medieval Northern Europe functioned as a violent warrior comitatus…
Self-proclaimed Druid in prison after newborn dies
The Brussels Times
The man, named only as Jean-Claude V., is thought to be a registered midwife (the same name is used in English as for the much more common female midwife). He also is known in his part of the country as someone with Druidic beliefs, and a proponent of "natural childbirth"…
Pagan accused of killing horse in 'ritual'
Radio NZ
Dunedin police sought documents related to satanic and pagan rituals during their investigation into the killing of a miniature horse in Waitati, New Zealand…
A Pagan credit union has entered planning stages
The Wild Hunt
A new group has organized with the hopes of creating a Pagan credit union…
New Pagan society launches at Ohio State University
The Lantern
Witches and Witchcraft, a new student organization dedicated to providing a space for people to talk and learn about the many different aspects of witches and witchcraft, met for the first time Friday at the Labyrinth Garden to discuss plans as Ohio State's first Pagan club, Angelina Puerto, founder and president of the club, said…
Pagan representative joins New Zealand vigil 
Shropshire Star
There was a show of strength and solidarity in Shrewsbury when dozens of people came together in harmony at a peace vigil held in memory of those who were killed in the New Zealand terror attacks…
Wiccan festival slated for Fort Flager
Peninsula Daily News
The Aquarian Tabernacle Church will host a Spring Mysteries Festival at Fort Flagler…
Netflix 'Sabrina' reboot has real Wiccans fact-checking the details of witchcraft, star tells Kimmel
Life Site
Kiernan Shipka, the lead actress of Netflix's Chilling Adventures of Sabrina reboot, told late-night host Jimmy Kimmel this week that real-life Wiccans advise the show's writers to ensure fidelity in their depictions of the occult…
Celtic Magic In New Paltz
Shawangunk journal
The Center for Symbolic Studies will host the 29th annual Beltane Festival on April 27. The festival celebrates the beginning of spring and includes a variety of entertainment…
The Coven In Mumbai That You Probably Didn't Know About
Mans World India
Born into a conservative Catholic family, Serrao was on his way to becoming ordained as a priest, but life had other ideas…
How the Hoodwitch is making witchcraft more inclusive
Dazed Beauty
Have any conversation with a witch today about where they go for their magical inspiration and they're more than likely going to namedrop The Hoodwitch…
Witches of Middle Tennessee: Unpacking witchcraft, its rise to popularity
MTSU Sidelines
With origins dating back to the prehistoric era, there is no definitive start date to the practice of magic and the use of the Earth's elements to manifest change in one's life…
Seasons of the witch: as women we nurture the riches of earth, food and health
The Guardian
The correlation of the feminine to nature, repressive for so long, can be a source of power…
Here's what the tarot readings in Sabrina actually mean
Polygon
Most of them are right; some of them aren't…
How to use 'modern witchcraft' to create a feel-good home
Star Tribune
Author of "HausMagick" shares ways to harness positive energy to create a feel-good living environment…
Shinto News
Shinto exhibition opens in United States
NHK World
An art exhibition on Japan's Shinto religion is attracting visitors in the United States…
The all-too-human Shinto gods descending on Cleveland
The Art Newspaper
Exhibition at the Cleveland Museum of Art aims to bring the Japanese belief system and its often quarrelsome deities vividly to life…
Spiritual culture draws foreign tourists to Japan
The Japan News
An increasing number of foreigners are coming to Japan to experience its unique spiritual culture…
Trailer for Makoto Shinkai's New Animated Feature 'Weathering With You' Reveals Shinto Influence
Hypebeast
The influence of Japan's Shinto religion and the indigenous nature-based religion's rituals and folklore throughout the film will serve to express an interesting cultural point of the nation to the world…
Shrines containing giant model penises paraded through Japanese streets for 'Festival of the Steel Phallus'
The Sun
The festival, held every spring for the last five years is inspired by several Japanese legends, including the story of a poor newlywed couple who struggled to consummate their marriage after a demon hiding in the bride's vagina bit off her husband's penis – twice…
16 Jaw-Dropping Pictures From Inside Japan's Penis Festival
BuzzFeed
Every year on the first Sunday of April in Kawasaki, Japan, one might cross paths with a peculiar sight — a succession of enormous erect penises parading down the street under the strength of men in traditional female garb…
Jichinsai Marks the Beginning of New Campus Construction Schedule
Temple University Japan
Jichinsai are performed before beginning construction on any new building to invite the local Kami, or god, and gain its blessing…
Enthronement Ceremonies (ISSA symposium)
Green Shinto
ISSA is the International Shinto Studies Association, the head of which is emeritus professor Michael Pye based in Kyoto. In the past it's been something of a shadowy organisation, with little attempt at outreach. Now however there seems a newfound sense of purpose with an updated website and a clear agenda…
The enthronement of Japan's Emperor Akihito
The Independent Uganda
It was the first such event under Japan's post World War II pacifist constitution in which the emperor was no longer revered as a "living god", becoming only "the symbol of the state and of the unity of the people."…
The Sword and the Jewel
Mimusubi
There are a lot of ceremonies associated with the succession, and while they start on April 30th, some of the most important ones, and those most closely connected with Shinto, do not take place until November…
Other News
Graffiti scrawled on Ring of Brodgar standing stone in Orkney
BBC News
Police are investigating vandalism at Orkney's Ring of Brodgar.
Cottingley Fairies photos sell for £50,000
BBC News
A series of the famous faked Cottingley Fairies photographs has sold for more than £50,000 at auction…
Stone Circles Ringed House That May Have Belonged to the Neolithic 'One Percent'
Live Science
The massive and ancient stone circles around Stonehenge and Avebury in southern England may have all started with the commemoration of a single Neolithic house that probably belonged to an elite family, archaeologists now say…
Historic 'spiritual deposition' to ward off witchcraft discovered at Codling's Forge in Long Melford
Suffolk Free Press
A suspected 'spiritual midden' – a collection of 17th and 18th century relics thought to be intended to ward off witchcraft – was found concealed beside a Tudor-era fireplace…
Japanese flower festival celebrated in Dublin park
Daily Echo
Hanami is the traditional Japanese custom of viewing flowers, especially cherry blossom, to mark the arrival of spring…
Understanding the business of Japan's cherry-blossom season
Business Standard
Cherry blossoms and elaborate hanami setups are practically made for social media—particularly Instagram, which has fueled the boom in cherry-blossom tourism…
Why were the Victorians so obsessed with the moon?
The Spectator
The 19th century was an age that hoped for improvement but was conscious of the dark, as this exhibition of moonscapes demonstrates…
Japanese Dolls – Not Just Child's Play
The Gleaner
Dolls in Japan have formed part of ­everyday life since ancient times…
Mother sentenced for torturing 3-year- old daughter she accused of 'witchcraft'
Prime News Ghana
A 39-year-old mother, Aunty Esi has been sentenced to three months in imprisonment with hard labour for subjecting her three-year-old daughter to various forms of physical torture over claims that she is a witch…
Couple Thrashed On Suspicion Of 'Witchcraft' In Odisha's Mayurbhanj
Ommcom News
A married couple was thrashed by villagers at Balikhani under Bangiriposi police limits of Mayurbhanj district on Saturday on suspicion of practicing witchcraft…