Top stories in Paganism and Shinto this week:
Statue of kami Ebisu lost in 2011 tsunami recovered
Shinto shrine bans foreigners after vandalism and alleged death threat against priest
Pagans expresses outrage over "book review" in UK publication
Read more below…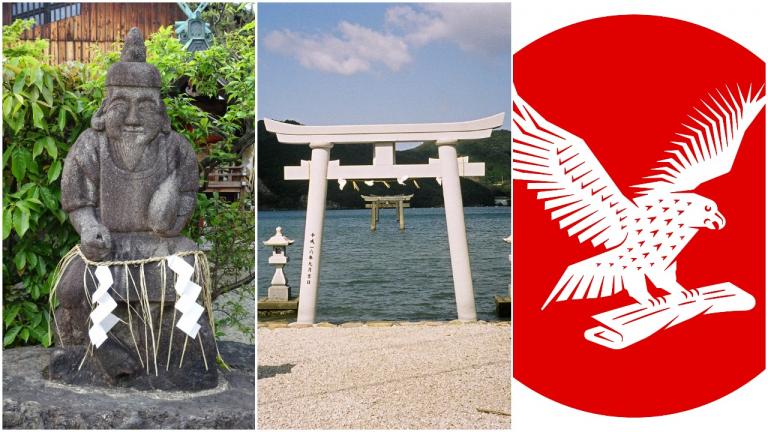 Pagan News
Pagans expresses outrage and disappointment over "book review"
The Wild Hunt
An article published by The Independent on January 12, and presented as a "book review" written by Ceri Radford has drawn considerable criticism and anger from the Pagan community…
The Endless Judgmentalism of Paganism
Patheos Pagan: Lisa Wagoner
"She didn't really experience what it's like to be a witch, and just dipped her toe in, so it's her loss if she didn't want to learn more."
Christians Are Protesting My First Keynote
Patheos Pagan: Mat Auryn
"Behind that energy of hate are fear and paranoia. All of that is driven by the energy of dogmatism. The same energy that didn't just kill witches, but also crucified Jesus Christ."
Final touches put to Marsden Imbolc Festival 2020
Examiner Live
The biennial pagan-inspired community event has been taking place in the village for almost 30 years…
Shinto News
Ebisu statue, lost following 2011 tsunami, pulled from waters off Miyagi
NHK World
A statue of Ebisu, the Japanese god of fishermen and luck, was pulled from the sea Tuesday and will be given a new home near the Miyagi Prefecture port from which it was swept away during the devastating March 2011 tsunami…
Japan's Watatsumi Shrine bans foreigners after vandalism and alleged death threat against priest
South China Morning Post
Japan's popular Watatsumi Shrine has taken the unprecedented step of banning all foreign tourists after a spate of vandalism, thefts and an alleged death threat against the head priest by a South Korean tour guide…
Seijinshiki 2020: Kitakyushu's Coming of Age Ceremony dazzles in the Year of the Rat
SoraNews24
Kitakyushu welcomes its first Coming of Age Ceremony of the Reiwa Era in its typical outrageous fashion(s)…
Yanagawa doll festival to preopen to draw more tourists
The Asahi Shimbun
With an eye to attracting Chinese tourists, city officials have decided to preopen the annual Yanagawa Hina Matsuri Sagemon Meguri (Doll festival parades) from Jan. 24 to Feb. 10…
New Year shrine visit (2020)
Green Shinto
The shrine is constantly trying to improve its appeal to visitors, and over the past decades there have been a whole host of innovations and upgrading which have been reported on this website. It was with interest therefore that we went to pay our first respects of the year (hatsumode) and see what novelties the shrine had prepared…
Other News
Thief stole ancient stone used to build Stonehenge as garden ornament
The Telegraph
The thief swiped the bluestone last week from the Preseli Hills in Pembrokeshire, Wales, where some of the stone used for the Wiltshire monument was quarried and transported…
Scotland's largest puppet to kick of Celtic Connections 2020
The National
A 10-metre "sea goddess" called Storm will walk through Glasgow city centre to mark the start of the 2020 Celtic Connections programme…
Paganism, Humor, Tradition: Old Vevcani Carnival Celebrated in Macedonia
Albawaba
One of the most famous village festivals held in the Balkans is the Vevčani Carnival. Each year, the Macedonian village marks the Orthodox St. Vasilij Day — the beginning of the old Julian calendar — with a 1,400-year-old carnival rooted in pre-Christian traditions…
Brexit a good time for Greece to ask for Parthenon Sculptures back
Greek City Times
With the UK government finally agreeing on a Brexit plan and the EU member states preparing legislation to deal with the consequences, many believe that this is the perfect time to revisit the issue of the return of the Parthenon Sculptures…
Shinrin Yoku: The Wonders of Japanese "Forest Bathing"
Unseen Japan
Rather than an exercise, forest bathing is more of a therapeutic meditative practice…
India: Woman murdered over suspected 'witchcraft' in Sundargarh
Orissa Post
In yet another incident of committing a crime against suspected witchcraft, a woman was allegedly murdered at Tikiraposi village under Bonai police limits in Sundargarh district late Wednesday night…
India: 65-year-old woman killed after being branded 'witch' in Jharkhand
Hindustan Times
Police said 22-year-old Manoj Bilung allegedly killed Ashrita Bilung with sticks after branding her a witch on Friday, a day before his wedding at Sarkhutoli village under Pakartand police station, around 140km from capital Ranchi…
Malawi: 75-year-old woman killed for 'witchcraft' after missing granddaughter's funeral
Malawi24
Villagers in Chitipa have killed a 75-year-old woman whom they accused of practicing witchcraft after she did not attend her granddaughter's funeral ceremony…
India: Youth, uncle held for killing man over witchcraft suspicion
Pragativadi
A youth and his maternal uncle were arrested by police in Brahmani village in Kandhamal district for killing a man suspecting him of practicing black magic, officials said today.