Top stories in Paganism and Shinto this week:
Australian Pagans respond to the bushfire crisis
'Witch bottle' from Civil War found in Virginia highway median
Stonehenge Alliance calls for government to scrap tunnel
Read more below…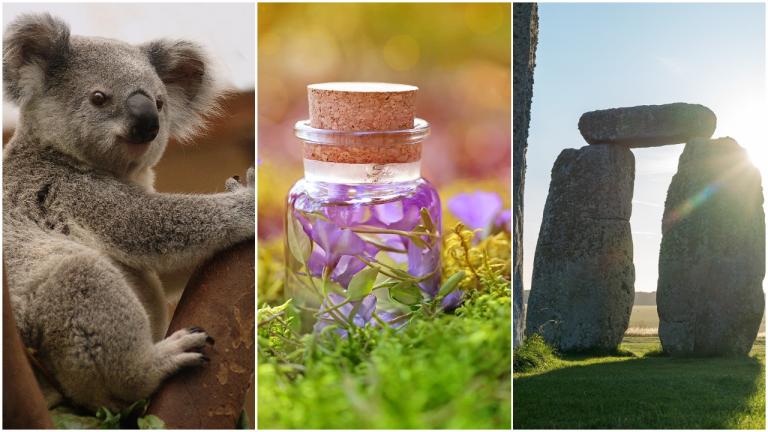 Pagan News
Acts of kindness and love: Australian Pagans respond to the bushfire crisis
The Wild Hunt
As bushfires continue to burn out of control across several Australian states, there have been many gestures of support from Pagan organisations and individuals across the country…
Modern witches are using TikTok's algorithm to spread their message
Screen Shot
Witches of TikTok, as they're referred to, are typically young girls with a keen interest in witchcraft who use the platform to create a community of people fascinated by the occult…
Balancing Anti-Consumerism and Ye Olde Witch Shoppe
Patheos Pagan: Lisa Jade
Sarah is a shopkeeper and owner of Mystic Moons in Moncton, NB, Canada, and has made her store a fixture in the Maritime Pagan Community…
How to Tell Your Fortune by Reading Tea Leaves, According to a Real Witch
Style Caster
When Katelan Foisy drinks her tea, she thinks about how her ancestors have been doing the same thing for generations…
Shinto News
Festival-goers at Yukake Matsuri get doused on frigid morning
The Asahi Shimbun
The festival, where local revelers wearing only loincloths splash each other with water, was celebrated at the Kawarayu onsen hot spring resort in the early morning hours on Jan. 20…
Nihonshoki: 1300 years
Mimusubi
This year marks the 1300th anniversary of the completion of the Nihonshoki. The Nihonshoki is the first official history of Japan, starting from the creation of Japan, and continuing up to the reign of Jitō Tennō at the end of the seventh century…
Hell on Earth: A Look at Japan's Volcanic "Hell Valleys"
Unseen Japan
The concept of "hell" or "the underworld" is prevalent in religion, legend, and mythology throughout almost all countries of the world. In Japan's traditional Shinto religion, however, that idea was almost non-existent…
Other News
Glass 'witch bottle' from Civil War found in Virginia highway median
Boston 25 News
A glass "witch bottle" dating from the Civil War and likely used as a rare ritual item to ward off evil was found by researchers during an expansion of a Virginia highway…
Stonehenge Alliance calls for A303 tunnel to be scrapped in open letter to government
Salisbury Journal
The Stonehenge Alliance has called for the A303 Stonehenge Expressway Scheme to be scrapped, in an open letter to the Secretary of State for Transport…
Ministers do battle over £2billion Stonehenge tunnel as Treasury 'complains it is not worth the money'
Mail Online
Ministers are doing battle over whether to go ahead with a £2billion tunnel under the historic Stonehenge site…
Voice of 3,000-year-old Egyptian priest brought to life
BBC News
Scientists have fulfilled a mummified Egyptian priest's wish for life after death – by replicating his voice with artificial vocal cords…
Petition launched to make St. Brigid's Day an Irish national holiday
Irish Central
Herstory, a movement that aims to write women back into Ireland's history, has launched a campaign to make Feb 1, St. Brigid's Day a national holiday. Once upon a time, this date was celebrated by the Celtic people as the festival of Imbolc, dedicated to the goddess of fire, who we now call St. Brigid…
Satanists desecrate church by breaking in to carry out occult ceremonies and rituals
Mail Online
St Botolph's Church has become an unholy altar for devil worshippers who use it the sacred building to sacrifice animals and play with Ouija boards…
You think this is a witch hunt, Mr President? That's an insult to the women who suffered
The Conversation
US President Donald Trump has tweeted 'Witch Hunt' approximately once every three days since his inauguration two years ago…
When did the vulva become obscene?
The Conversation
The phallus is seen as a powerful image, whereas the vulva is upsetting to many. But this has not always been the case…
How the belt of a goddess revealed the true colours of the Parthenon marbles
Country Life
Research, original thought and a few gambles completely changed the academic community's perception of some of the world's greatest treasures.
Meet Bonbibi: The Forest Goddess Worshipped By Hindus And Muslims Alike
Youth Ki Awaaz
In an age when Hindu majoritarianism has divided India on communal lines, and Islamic radicalism is on the rise across the globe, a local goddess revered by both Hindus and Muslims shines a beacon of hope on what it means to be truly pluralistic…