Top stories of the week in Paganism and Shinto:
UK: Royal beekeeper informs the Queen's bees that she has died
Italy: Temple dedicated to Apollo consecrated in Tarantino
Harvest moon lights up skies and marks start of festivals worldwide
Read more below…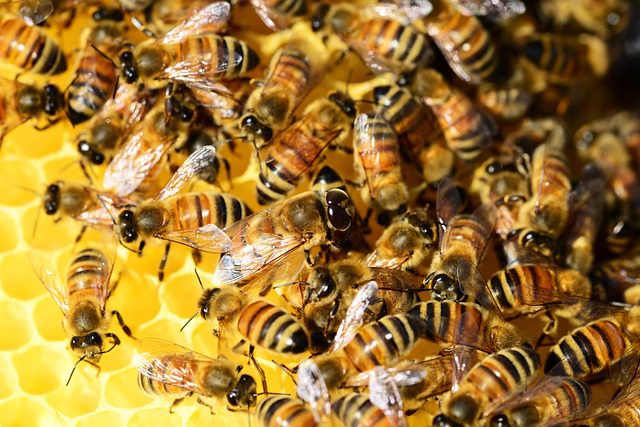 *=Registration may be required.
Pagan News
Italy: Temple dedicated to Apollo consecrated in Tarantino
Greek City Times
Historically, Apollo's cult is strongly linked with Taranto in Southern Italy, historically known as Magna Graecia, and therefore it is not surprising that in the Ionian area – precisely in Monteiasi – a temple dedicated to the god was inaugurated over the weekend…
Harvest moon lights up skies and marks start of festivals worldwide
The New York Times*
The harvest moon, which will appear full for about three nights from Thursday night to Sunday morning, is the full moon closest to the autumnal equinox…
Spiritual meaning of 2022 harvest moon and its impact explained
HITC
Known as the full moon that falls right around the fall equinox, here's all you need to know about its spiritual meaning and impact…
The Heathen Open Halls Project shuts down
The Wild Hunt
The Open Halls Project, an organization founded in 2009 by Josh and Cat Heath to advocate for military Heathens as well as connect Heathens with resources and community announced they were "shutting down the project" via their website, in July of this year…
UK: Gloucestershire's dark takes and witchcraft coming to The Folk Gloucester
Gloucestershire Live
Founded by Gloucestershire-based Inkubus Sukkubus, the Tales of Witchcraft & Wonder event celebrates the folklore and dark folk tales of Gloucestershire…
Shinto News
Japan mourns Queen Elizabeth, lauds her major role in bilateral ties
The Mainichi
Among the locations she traveled to on the state visit was Ise Jingu, a shrine in central Japan's Mie Prefecture dedicated to the Shinto sun goddess Amaterasu. The Shinto shrine's records say the queen took a keen interest in its construction, history and ceremonies and asked numerous questions…
Autumn festivals return after 3 years in Japan
NHK World
Some traditional autumn events that were canceled due to the coronavirus pandemic are drawing crowds again for the first time in three years…
Children perform ritual at shrine on Sado Island for first time in 10 years
The Japan News
For the first time in 10 years, children performed a Shinto ritual to pray for the safety of miners on Sado Island, as residents are preserving traditional culture with the aim of registering its gold mine complex as a UNESCO World Heritage site….
Hiroshi Nakamura's Ueno Toshogu Shrine Juyosho in Japan revives felled ginkgo tree as roof
DesignBoom
Japanese firm Hiroshi Nakamura & NAP designed meditation spaces and pavilions in Ueno Toshogu Shrine (built in 1627 as a shrine dedicated to Tokugawa Ieyasu) in Tokyo, Japan to invoke the nature of 'a garden for praying.'…
Other News
UK: Royal beekeeper informs the Queen's bees that HM has died and King Charles is their new boss
Mail Online
The royal beekeeper – in an arcane tradition thought to date back centuries – has informed the hives kept in the grounds of Buckingham Palace and Clarence House of the Queen's death…
UK: Queen Elizabeth II – Gun salute tribute fired at Stonehenge
BBC
A gun salute of 96 rounds to mark each year of Queen Elizabeth II's life has taken place at Stonehenge…
Egypt restores ancient shrine of Amun-Ra
Al-Monitor
Egypt has finished restoring one of the seven shrines in the Temple of Seti I in southern Egypt, dedicated to the worship of Amun-Ra about 3,500 years ago…
Mexico: Mum is accused of throwing 'satanic' birthday party for daughter
Mail Online
A mother has been slammed on social media after she was accused of throwing a 'satanic' birthday bash for her one-year-old daughter – filled with decorations that appear to be diabolical…
US: A kidnapped goddess returns home, after prosecutors expose art thieves
NPR
More than 70 stolen antiquities, some more than 2,000 years old, were seized from collections in the U.S. and returned to their native countries of Italy and Egypt this week…
Artemis: Why NASA's latest Moon mission is named after an ancient lunar goddess
Big Think
Following the advent of human space flight, NASA began naming missions after children of Zeus…
How people viewed the Moon before Apollo and Artemis
National Geographic
Centuries before any lunar missions, human reverence for the Moon's beauty and influenced civilizations and religions, aided timekeepers and farmers, and inspired scientific inquiry…
The 'whimsigothic' aesthetic gives major 'Practical Magic' vibes for fall
Vancouver Is Awesome
Stevie Nicks, Sabrina Spellman, Pheobe Buffay, and Willow from Buffy the Vampire Slayer are all "whimsigoth" icons…
'Witch hunts' past and present
US: Man accused in Houston witchcraft killings makes first court appearance
Houston Chronicle
A man accused of killing two people and wounding another told Houston police officers that shooting the three was a "calling from God" after learning that they had been practicing witchcraft, according to authorities…
India: 3 women lynched over 'witchcraft' suspicion in Ranchi, 8 arrested
OpIndia
Three women were allegedly beaten to death on accusations of 'witchcraft' at around 8:30 pm on Sunday, September 4, 2022…
India: Odisha youth hacks woman to death on suspicion of 'witchcraft'
The Statesman
In a shocking incident, a woman in Odisha's Rayagada district was on Monday allegedly hacked to death by a neighbour who suspected her of 'practicing witchcraft', police said…
Scotland: Tree marks the spot for witchcraft victims memorial
Border Telegraph
A memorial to 27 victims from Peebles executed after being accused of witchcraft almost 500 years ago is to be located beside a tree in a town park, it has emerged…