Top stories in Paganism and Shinto this week:
US: "Overwhelming majority" of Pagans surveyed are Democrat
Covid-19 disrupts worldwide Samhain and Halloween celebrations
UK: After miners' pardon 'witches' must be next, says top QC
Read more below…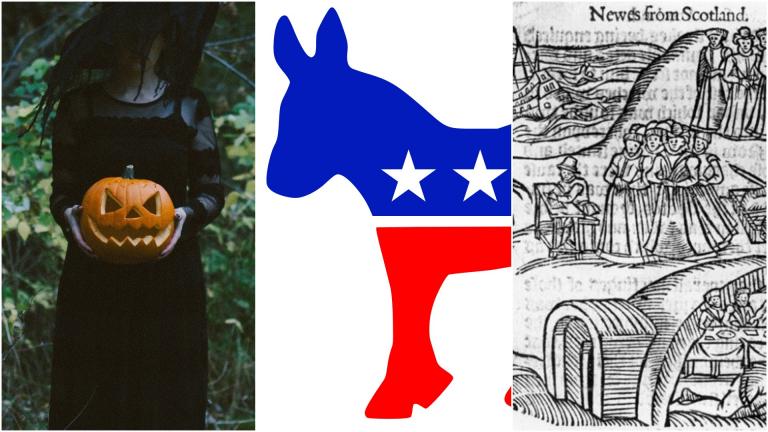 Samhain Coverage
UK: Covid-19 and Halloween – Lockdown means witches' coven 'can't meet'
BBC
The pandemic has meant all kinds of sports, social and religious groups cannot meet – but spare a thought for a witches' coven…
Canada: Ottawa Pagans prepare to observe a physically distanced tradition on Oct. 31
Capital Current
As Halloween approaches in a city where residents are under strict instructions not to leave home to mark the occasion, pagans in Ottawa who celebrate Samhain — the Celtic genesis of many Halloween rituals — are changing the way they will welcome the "dark half of the year" that begins symbolically on Oct. 31…
UK: Mysterious stone figures moved in Gaelic winter ritual
The Guardian
This weekend, at Samhain, the Gaelic festival marking the end of the harvest season, according to a modest local custom that may span centuries, the figures will be returned to their quartz-studded shieling – a basic shepherd's hut – to spend the winter months undercover. They will be brought back outside, as they are every year, around Beltane, next May…
UK: Paranormal investigator says Halloween should be more about honouring our ancestors
Greenock Telegraph
An Inverclyde ghost hunter and paranormal investigator says Halloween should be less about creepy costumes and decorations and more about honouring our ancestors…
UK: Trick or treating is cancelled for England's high risk areas
Reuters
Trick or treating during Halloween is banned in the areas of England in the highest level of COVID-19 lockdown, a junior minister in Prime Minister Boris Johnson's government said on Tuesday…
UK: Ministers tell Scotland's young trick or treaters to stay at home on Halloween
The Sunday Post
Ministers have told trick-or-treaters to stay at home on Halloween to curb the spread of Covid…
Witches mark Halloween with reflections on death as well as magic
The Conversation
for members of the minority religion of Wicca and witchcraft, part of contemporary paganism, Halloween has never been primarily a children's holiday…
The weird and wonderful traditions of Samhain in Scotland
The Scotsman
From masks made from scraped out sheep's heads to raging bonfires and games to foretell a future spouse, this was how how Halloween was traditionally celebrated in Scotland…
Why Scotland is so obsessed with the supernatural
The Herald
Hallowe'en may be commercialised and modernised out of all recognition when compared to its ancient origins, but even in 2020 such festivals are not meant to be observed alone or in small gatherings – they are about the group, the tribe, coming together…
Why we should celebrate witches this Halloween
The Weekender
The number of believers in Wicca, a neo-pagan religion associated with witchcraft, stemming from amateur anthropologist and retired British civil servant Gerald Garner's writings on Wicca in 1954, is speculated to be at an all-time high…
This is what Halloween looks like around the world
Time Out
October 31 isn't just about stuffing yourself full of sweets. Here's how the scariest holiday is celebrated around the globe…
How the early Catholic Church Christianised Halloween
History
After the Romans conquered ancient Celtic realms, pagan traditions were adopted into a holiday honoring Catholic saints…
Halloween witches draw on the history of women's power
The Conversation
Young women and girls don this costume because it allows them to flirt with the daring possibilities of female agency — expressed as naughtiness and defiance — that is normally off limits to them…
Day of the Dead: From Aztec goddess worship to modern Mexican celebration
The Conversation
Day of the Dead might sound like a solemn affair, but Mexico's famous holiday is actually a lively commemoration of the departed…
Binding Trump is part of my work as a witch
Patheos Pagan: Gwyn
A Patheos Pagan writer reacts to comments on last week's Pagan & Shinto News top story that witches are planning to bind Trump on Halloween…
Halloween can be less capitalistic
The Rocky Mountain Collegian
The origin of what we know as Halloween today actually has deep connections to the natural world, connections that go further than throwing toilet paper into your neighbor's bushes…
Other Pagan News
US: "Overwhelming majority" of Pagans are Democrat, survey finds
The Wild Hunt
A survey by Pagan online magazine the Wild Hunt found the "overwhelming majority" of respondents stated their affiliation as Democrat…
US: Wiccan-tattooed police officer advances bias suit
Bloomberg Law
A Philadelphia-area police commissioner and mayor must face a police officer's claims he was disciplined for wearing a dress to work, eyeliner on the job, and a Wiccan tattoo on his head and hands, the Eastern District of Pennsylvania ruled…
'The Craft: Legacy' director enlists real witches to oversee movie script
Ace Showbiz
Lister-Jones hired three witch experts, including Pam Grossman, the author of "Waking the Witch: Reflections of Women, Magic, and Power", and Bri Luna, as consultants to make sure the film was grounded in actual tradition and custom…
Does this presidential election seem more witchy to you? You're not alone
The Philadelphia Inquirer
A number of trends, like the healing crystal boom, the tarot revival, and the growing popularity of astrology, reflect cultural shifts around spirituality, especially among young people…
Gen Z witches say 'It's the way of life'
Gambit
For tourists, and even a lot of residents, witchcraft and voodoo are things of the past: mythic practices that may have helped create New Orleans culture, but are either long gone like the juke joints of the old Basin Street or are the province of French Quarter tourist traps. But for Stevenson and other members of Gen Z, the old ways are still very much alive, coexisting alongside TikTok in perfect harmony…
How witchcraft became a multi-billion dollar industry
The Conversation
Today, witchy toys, crystals, and potion kits are big business and the craft has even cast its spell on some global brands…
How Hollywood has failed black witches, according to real black witches
Variety
N'ganga Makhosi has been practicing hoodoo in Los Angeles her entire life, a tradition she learned from her grandmother, but says she's never felt her practice was accurately represented in the media…
Black women embrace the spiritual realm
NBC News
For Black women, mysticism's appeal is about empowerment and taking up space in a world that often marginalizes them…
UK: Village 'wise woman' speaks about leaving the Jehovah's Witnesses
Cornwall Live
Laetitia recalls visiting the Witchcraft Museum in Boscastle in 1996 where she was shocked by the ways that women who were branded as witches had been tortured by people who were supposedly Christian. "So I thought, if they teach that witchcraft is evil, but can perform horrific tortures, then maybe the other side isn't as bad as they say it is. That's when I began looking into witchcraft."…
UK: I cast a spell and my friend found the love of her life after being alone for several years
The Sun
Avalon Moss, 70, from Herne, Kent, reveals how she discover her magical abilities…
UK: My life as a teenage witch
The Guardian
I couldn't afford a cauldron, but did manage to find work experience as a fortune-teller. Would I grow up to find my coven?…
US: Former 'No-Nonsense Witch' embraces new spiritual path
Shreveport Times
Claiming the witch moniker today can entail anything from being a practitioner of Wicca — a religion founded in the 20th century — to practicing any number of neo-pagan ritual or ceremonial magic, research shows…
Alice Tarbuck on witches and magic
The Herald
As Tarbuck shares what it means to be a modern-day witch, it becomes clear that the reality is perhaps not what you might expect…
Three witches agree, *this* is the most realistic movie about witches
InStyle
Who better to weigh in on movies about witches than actual witches?…
The Vogue guide to being a modern witch
Vogue
Didn't you hear? Being witchy is now something to aspire to…
What real witchcraft looks like
Amherst Wire
Modern witchcraft is a far cry from broomsticks and cauldrons…
Witches as feminist icons
The Medium
Early feminist manifestos in the 19th and 20th centuries suggested that witchcraft was a way for the church and the state to oppress and control intelligent women and their influence…
I get a lot of phone calls from people asking me to cast spells for them
Independent.ie
Barbara Lee is an Alexandrian witch who was initiated into Wicca in 1980…
Witchcore: 'If you want to wear a taxidermy owl on your shoulder, this is your moment'
The Guardian
"Witchcore" is a term coined by the TikTok generation, among whom there is a sizeable proportion of self-identifying witches, congregating online…
Zoe Lister-Jones on 'The Craft' and women's power
The New York Times
Three-quarters of her leads in The Craft were already practicing some form of witchcraft…
Shinto News
Empress Masako takes part in a ceremony to mark 100th anniversary of Tokyo's Meiji Shrine
Mail Online
Empress Masako took part in a ceremony to mark the 100th anniversary of the Meiji Shrine, which is dedicated to the Emperor Meiji and his wife, Empress Shōken. ..
Sims expansion removed bowing at Shinto shrines 'out of respect for Koreans', says producer
Kotaku
A number of South Korean players complained about the imagery they found offensive in the trailer, namely that a Sim was shown bowing in front of a small shrine…
N.Korea slams Suga's offering to Yasukuni Shrine
NHK World
North Korean state-run media has criticized Japanese Prime Minister Suga Yoshihide for his recent ritual offering to a Tokyo shrine that honors Japan's war dead…
Japan: Measures necessary for New Year's holiday to prevent spread of coronavirus
The Mainichi
Many people gather at Shinto shrines across the country for New Year's. While the visits take place outdoors, the shrine grounds get very crowded, and it becomes important to take measures not to get crammed in small spaces with a lot of other people…
Other News
In 2,000-year-old Apollo seal, a sunny glimpse of pluralism in ancient Jerusalem
The Times of Israel
Discovery of a rare 2,000-year-old signet ring engraved with the Greek sun god Apollo gives new evidence of a pluralistic Jewry walking the streets of ancient Jerusalem during the Second Temple period, archaeologist Eli Shukron told The Times of Israel…
Australia: Anger over sacred Aboriginal tree bulldozed for highway
BBC News
Protesters have long camped at the site in Victoria to defend culturally significant trees, including some where local Djab Wurrung women have traditionally gone to give birth…
Crocodiles in Ancient Egypt
JSTOR Daily
According to archaeologists, it looks like worshipers of the croc deity Sobek bred the Nile's most famous reptile for mummification…
Drawing on Greek myths as inspiration for illustrating life during the pandemic
NPR
In his series Greek Quarantology, illustrator Jonathan Muroya recasts Greek gods and myths to creatively capture aspects of life during the pandemic…
'Witch Hunts' Past & Present
UK: After miners' pardon witches must be next, says top QC
The Times
Witches should be pardoned after the formal decision to forgive miners, Scotland's leading QC has said…
India: Villagers in Jharkhand allegedly behead 3 of family for 'practising witchcraft'
Hindustan Times
Police on Wednesday recovered decapitated bodies of three people of the same family from a forested area in Jharkhand's tribal dominated Khunti district who were allegedly abducted more than three weeks ago and killed for 'practising witchcraft'…
Danish museum brings witch hunts to life
France 24
Located in the home of a former witch hunter, the "Hex! Museum of Witch Hunt" in the town of Ribe sheds light on how a fear of witches led to persecutions that swept across Denmark and Europe in the 16th and 17th centuries…
UK: Borders witch trials described in new book out on Halloween
Border Telegraph
Mary Craig, originally from Glasgow but now living in Stow, first wrote about Borders witches in 2008, but more than a decade later she has uncovered further information on the 'outsiders'…
UK: The tale of the Pendle Witches and how a nine-year-old girl would condemn her family to death
Lancashire Live
Ten men and women were hanged at Gallows Hill following the notorious Lancashire Witch Trials…
UK: Leicestershire's notorious witchcraft trial saw 9 women hanged after boy accused them of dark magic
Leicestershire Live
513 accused witches were put on trial in the south-east of England between 1560 and 1700, though only 112 were reportedly executed, with the last known execution taking place in Devon in 1685…
UK: The final Devon women executed for 'witchcraft'
Devon Live
It is almost unfathomable now to think of Devon as a place where those accused of witchcraft were sent to their deaths, but such executions are a part of Exeter's dark past…
UK: Torture of Ayrshire's 'witches'
Ardrossan & Saltcoats Herald
Irvine's most notorious witch trial took place in 1618– and led to the agonising death of four people…
UK: Remembering the Witches of Paisley, the last witch trial in Western Europe
The Scotsman
The Paisley Witches of 1697 is the tale of seven Renfrewshire residents who lost their lives on account of a now outlawed crime, the practice of witchcraft, in what is known as 'the last witch trial of Western Europe'…
The best tool against an inconvenient royal woman: Witchcraft accusations
Jezebel
In her new history book, Royal Witches, Gemma Hollman traces the intertwined lives of four women associated with the royal family of England—Joan of Navarre, Eleanor Cobham, Jacquetta of Luxembourg, and Elizabeth Woodville—who each faced witchcraft accusations during the 15th century…
Final resting place of northern England's last 'witch'
Chronicle Live
Elizabeth Lee was rumoured to practice 'witchcraft'. However, she was never proven guilty of any such crimes and she eventually died at the very old age of 87…