Here are some of the top stories from the past two weeks:
US: Design firm takes responsibility for CPAC 'Odal rune' stage controversy
Anime fans bemoan loss of Shinto shrine in Tochigi wildfire
Scottish Pagan Federation unveils a new tartan
Read more below…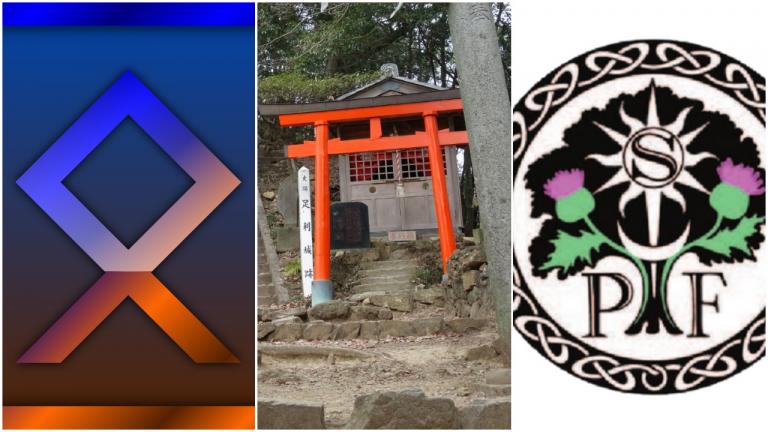 *=Registration may be required.
Pagan News
Scottish Pagan Federation unveils a new tartan
The Wild Hunt
The Scottish Pagan Federation (SPF) has announced its official tartan to coincide with its 50th-anniversary celebration…
'The Witch of Kings Cross' finds the woman behind the scandal
Religion News Service
A new documentary called "The Witch of Kings Cross" — named for Norton's bohemian neighborhood in Sydney — explores the life of the artist and self-professed witch and shows that scandal isn't really the heart of Norton's story, despite what her critics might have said…
The queer activists reclaiming Norse myth from the far-right
Huck
White supremacy and Norse myth have long been interconnected – but a community of LGBTQ+ activists and allies are fighting to save this noble tradition from hate…
How tarot & astrology became black & brown women's north star
Refinery 29
As stigma surrounding non-Christian spiritual practices fade, black and brown women are reclaiming divination as a tool for self-healing…
UK: The little-known stone circle in a Lewisham park that's London's very own Stonehenge
My London
Taken from Mount Struie in Scotland, the stone circle is thought to be the only one of its kind in the city and a pilgrimage site for London pagans…
Witches are very real—and I am one
Cosmopolitan
But how does one actually BECOME a witch? Well, I am one, and this is my story…
Shinto News
Anime fans bemoan loss of Shinto shrine in Tochigi wildfire
The Asahi Shimbun
Anime fans poured out their grief on social media after a small shrine associated with an online game featuring personified characters of legendary swords was destroyed in a spreading wildfire in Tochigi…
Shrine's amulet sells out after Osaka likely had one in Australia
The Asahi Shimbun
Tennis fans hope that a lucky charm carried by Naomi Osaka during her championship run in the Australian Open can also help them lift their games to the heavens…
US: Nicolas Cage and Riko Shibata marry under Shinto vows
US Magazine
The duo blended their two cultures, exchanging traditional Catholic and Shinto vows…
Ryunosuke Okazaki creates couture dresses informed by Jōmon-era pottery
Dezeen
Tokyo-based designer Ryunosuke Okazaki has created a collection of couture dresses in bold colours and shapes that are informed by Japanese Jōmon-era pottery and the Shinto religion…
US: Museum of Natural History & Science launches 'Sayaka Ganz: Reclaimed Creations' online exhibition inspired by Shinto
Los Alamos Daily Post
The artist was influenced by the Shinto belief that all objects and organisms have spirits, that if these items are discarded before their time, they will weep inside the trash bin…
Demon Days X-Men reimagines Marvel as a classic Shinto folktale
Screen Rant
Peach Momoko's Demon Days: X-Men is inspired by Shinto folktales and feels like a serendipitous combination of passion, style and storytelling…
Other News
US: Design firm takes responsibility for CPAC 'Odal rune' stage controversy
Forward
The company that was hired to set up the stage at the Conservative Political Action Conference in Orlando, Florida last weekend has taken full responsibility for the design of the stage that resembled a Nazi insignia…
Man accused of QAnon vandalism at 'America's Stonehenge'
Concord Monitor
Police have made an arrest following a 15-month-long investigation into vandalism at a group of rock configurations in New Hampshire called "America's Stonehenge."…
Video game is renaming its goddess Isis to reduce concerns of demonetisation
Gamereactor
The latest update notes for Hi-Rez Studios' MOBA Smite has been unveiled, and the developer has announced that it will be renaming the Egyptian goddess Isis in-game, to "decrease concerns of demonetization of content videos and to remove content algorithm confusion issues."…
UK: Stonehenge tunnel decision to be challenged in court
Construction News
A judicial review of the government's decision to approve the £1.7bn Stonehenge A303 tunnel is set to be heard this summer…
UK: Owner of Welsh coastal park wants Stonehenge back
Nation Cymru
The owner of an attraction on Wales' west coast has said that Stonehenge should be carted back and erected on his land to attract tourists…
Egypt: Ancient papyrus holds the world's oldest guide to mummification
Live Science
The oldest known instructions for the ancient art of embalming mummies were recently discovered on a medical papyrus from ancient Egypt…
Forgotten mausoleum of Roman emperor Augustus reborn
France 24
A newly renovated colossal mausoleum for the founder of the Roman empire Augustus has reopened to the public in the Italian capital after centuries of neglect…
Sun Goddess of Arinna goes on display in Turkey's Izmir
Daily Sabah
An ancient statuette made from gold and silver that was rescued by Turkish police from historical artifact smugglers in 2015 is on display at a museum in a western Turkish province…
The last 400 years of witches in fiction (and feminism)
Yale News
.It's not too much of a jump to assume that if depictions of dragons vary according to the economy's state, then depictions of witches develop alongside the progress of women's liberation movements…
Are the Egyptian Pyramids aligned with the stars?
Discover Magazine
The ancient Egyptians watched Earth's night sky closely and named constellations after their gods. But did the builders of the pyramids really make these monuments with the stars in mind?…
Is this 2,000-year-old Egyptian burial site the world's oldest pet cemetery?
Smithsonian Magazine
Excavations show how humans treated cats, dogs and monkeys in first- and second-century Egypt…
'Witch Hunts' Past & Present
Witch Camp (Ghana) release new single focused on giving a voice to the voiceless
Grimy Goods
Producer and author Ian Brennan and his wife Marilena Umuhoza Delli do their best to feature underserved communities around the world to show their strength and love in the face of pain and struggle. Their current joint project, Witch Camp (Ghana), gives a voice to those women in Ghana who have been cast off by their societies, accused of 'witchcraft' and forced to live in separate communities…
Zimbabwe: Man kills uncle over 'witchcraft'
Bulawayo 24
A 26-year-old Bikita man hacked his 70-year-old uncle to death with a machete, accusing him of practising 'witchcraft', police have confirmed…
UK: Study to dive into stories of nurses and midwives accused of witchcraft
Nursing Times*
Researchers are to investigate the folk-healer nurses and midwives in early modern Scotland who were accused of – and often executed for – the crime of witchcraft…
Victims of witch trials deserve a pardon, insist Catalan campaigners
The National*
A campaign seeking a pardon and apology for thousands of Scots tortured and executed for being witches has inspired a similar call for justice in Catalonia…
UK: Skye woman 'murdered' for being a witch 12 years after persecution outlawed
The Scotsman*
A powerful clan figure was accused of binding and burning a woman to death after accusing her of being a witch – more than a decade after the persecution was outlawed in Scotland…
Women used to dominate the beer industry – until the witch accusations started pouring in
The Conversation
Up until the 1500s, brewing was primarily women's work – that is, until a smear campaign accused women brewers of being witches….
The long, brutal history of witch hunts
The Wall Street Journal*
Activists in Europe are revisiting the witchcraft trials of centuries ago to redress old injustices and help today's victims…