In my first post on this topic I talked about how the methodology utilized by SURJ (Showing up for Racial Justice) could prove to be an effective methodology for the church, if and as we seek to do the same.
The church is in need of new thought and dare I say it, 'experimenting' with new methodologies for initiating fundamental and core change. Mainline churches are too often 'sidelined' when it comes to leading in the art of transformative cultural change, especially when we in the church are often more in need of such change than the so called 'secular' culture around us. We are often more than decades late and many dollars short when it comes to embracing 'best practices' (ugh) I mean 'effective practices' which result in incarnate, quantifiable change that will cost us much and make us abundantly rich.
The evangelical world is much more adept at responding to culture, albeit not often in the most helpful ways from a progressive view. On the other end of the spectrum, mainline churches are progressive in theology but too often to the right of Jerry Falwell when it comes to methodology.
On the national level, mainline denominations have spent decades trying to become less white in their membership and leadership to become more reflective of the demographics of the general population. Yet most have met with little in the way of success with incarnate results. This is also true with median age, with the average mainline member being 20 to 30 years older than the average American or Canadian citizen.
So what can we actually do, that is not lipstick on the traditional board, committee or commission?
I will suggest some principles and strategies to try that might get us off the merry-go-round of study-itis, out of our conference rooms and onto the playing field of showing up for racial justice, by, well… showing up, because well  intentioned and earnest meetings in denominational headquarters, around conference tables are enough. Initiating real change calls for covenant, action and reflection which befits 'the faith of leap.'
The Faith of Leap is the title of a great book on mission by Michael Frost and Alan Hirsch. The book subtitle is Embracing a Theology of Risk, Adventure & Courage. 
Principle 1: Change-making without risk taking is impossible.
Preparation: Pray. It will accomplish much. Ask for presence and guidance of the Spirit and for the faith, will, and courage to leap.
Activity: 'Commit and Pledge' to take racial justice 'risks.' Communicate this pledge and commitment in writing to Black, multi-cultural and other underrepresented communities of color, share it with your whole judicatory, and if you dare to leap, share your intentions in a press release for 'beyond the church world accountability.'
Congregations are often 'risk averse'. Denominations and judicatories even more so. Yet this can be hard to understand when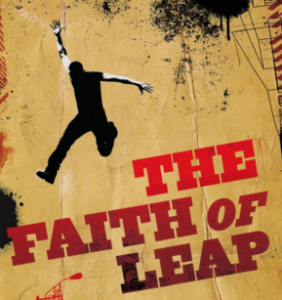 the Jesus whom we follow bids his followers to 'come and die.' (Dietrich Bonhoeffer, The Cost of Discipleship). We often we act as if we know nothing about this, yet this is the degree of risk the gospel calls for… If we are not willing to risk on the gospel, then Alfie (and more importantly, heaven) will not be able to help us. Praying and then making a commitment to racial justice 'risk' taking is a way to begin at all level and within all expressions of church.
Principle 2: Without a vision for racial justice the people will perish.      
Preparation: Pray for your top-level leader to issue a clarion call from the mountaintop.
Movements of the Spirit are often catalyzed by mountaintop prophets. In mainline churches those on the mountain \top are Presiding Bishops/Moderators/Presidents. If there is not a clarion call from the top, change at the judicatory level is much less likely to happen. Pray for your PB/Moderator/President that he or she might lead with a clear voice on the calling to enact racial justice.
Activity: Tweet for racial justice, to your 'White House.'  What are we doing as a denomination about racial justice? Please publish a list' (98 characters).
Ask and ye may receive, seek and ye may find, knock and the door may be opened unto you (maybe). Each new 'administration,' whether in the church or in government, sets their own priorities. However, connected, aware and open leaders may respond and shift or add to priorities when presented with various forms of impassioned 'petition from the field,' and especially when said petitions come in significant numbers, from across the nation and assisted by social media.
Stay tuned for more posts in this series.