St. Nicholas Day was this past Tuesday. As I always do, I put some effort in beforehand to make sure we had all the requisite materials for our St. Nicholas traditions: speculaas cookies, hard wrapped candies, clementines, small toys, a chocolate letter for each family member, chocolate coins, chocolate hail (like really, really good sprinkles), dutch style rusks, and an almond ring from the local dutch bakery.
On Monday, we tidied the house, sang songs about St. Nicholas, read his life story, and waited to see if Zwarte Piet would throw candies in through a window or door for the children to scramble around and collect. Before bed, we all lined up our shoes for St. Nicholas to fill. We forgot to put out a carrot for his horse this year, but we've done that in years past. When the children woke up in the morning, there were chocolates and toys in their shoes and traditional Dutch treats on the table.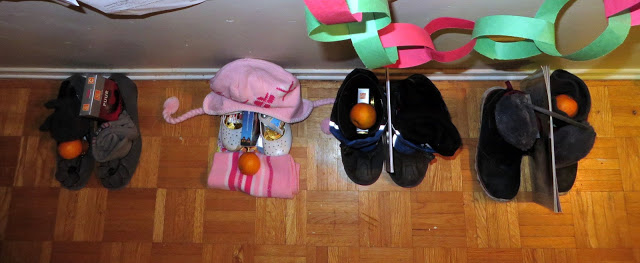 Later in the day, I logged on to Facebook, and saw this, from Simcha Fisher:
"I love this time of year. I always feel so smart and happy for never letting my kids find out about St. Nicholas' Day."
My first impulse was to want to defend this tradition that my family loves so much, to say, "Oh, it's not that much trouble! Really, it's worth it."
Before I posted, however, I browsed through the comments. And that is when I remembered the Year I Tried To Do It All.
I had a baby and a 3 year old, and I wanted them to understand that this was a special time of year. I wanted them to connect their faith with good things–with family, with mystery, with warmth, with belonging to something greater. And perhaps because I was very far from my own family, I went a little overboard.
We celebrated St. Nicholas' day with shoes and chocolate and homemade speculaas. We went to Mass on the Feast of the Immaculate conception and had extra dessert. We celebrated the feast of Our Lady of Guadalupe with tacos and guacamole–I think I may have even made the tacos from scratch.  We celebrated St. Lucy's day with a paper candle hat. It didn't stop after Christmas, either, because I'd decided we should go around the neighbourhood and collect canned food for the food bank on St. Stephen's day. My family also has two birthdays in December, so you can kind of imagine what kind of month it was.
Over the intervening years I cut back and cut back out of a sense of self-preservation, until now I am left with what, in our home, are the essentials: The Immaculate Conception. Christmas. Birthdays. And the Feast of St. Nicholas, celebrated mostly the way my Dutch mother celebrated it with me, the way her parents celebrated it with her, the way they celebrated it with their parents.
Am I saying you shouldn't celebrate traditions you have no cultural connection to? No. After all, every tradition starts somewhere. St. Nicholas was a fourth century bishop of Myra, in Asia Minor. There's no immediately obvious connection to explain why this early bishop of what is now a part of Turkey should have become the center of so many modern traditions in the Netherlands, and thus in my own family.
What we can see is that different saints have always resonated with different people, nations, and cultures through the centuries. You don't need to have the same connection with every saint on the calendar. The wide variety of saints and traditions associated with them means that there is something for everyone. We won't all have the same devotion to the same saints.
And that's OK. They all point us to the Child in the Manger in the end.