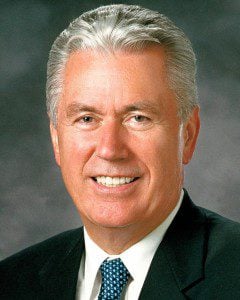 Like many Mormons around the world, I've spent this weekend watching the Church's General Conference, a biannual assembly of Church leaders and members where they come together to learn and be uplifted. While watching it, I've been struck by one thought – this is the anti-Trump conference.
No, the leaders of the Church haven't spent their time denouncing President Trump or calling for his ouster. Rather, they have offered forceful denunciations of some of the key tenets of Trumpism. That is, they have denounced efforts to divide people based on their backgrounds and they have counseled members to avoid being motivated by fear.
Jeffrey R. Holland, a Mormon apostle well known for his powerful sermons, offered one of the strongest critiques of Trumpism. He fearlessly proclaimed that "guns, slurs and vitriol are not the way to deal with human conflict." He also strongly condemned nativist, racist ideologies, stating that "there is room [in the Church] for those who speak different languages, celebrate diverse cultures, and live in a host of locations."
Another apostle, Dale G. Renlund, firmly declared that "we must guard against bigotry that raises its ugly voice toward those who hold different opinions." His fellow apostle, Robert D Hales, counseled that as Church members follow Christ, "there will be no disparity between the kindness we show our enemies and the kindness we bestow on our friends." He followed up this admonition with one to heed the example of the Good Samaritan.
But perhaps the fiercest indictment of Trumpism came from a Church leader who knows firsthand the destructive consequences of fear-based ideologies. Dieter F. Uchtdorf, who was born in Nazi Germany and whose family was forced to flee from East Germany because of communist oppression, decried attempts to manipulate and divide people with fear. This was a far-from-subtle criticism of Trump's frighteningly effective strategy of stoking ethnic and religious animus against Latinos and Muslims to bolster his own power. That these words came from a man who lived in the midst of World War II's destruction and the Holocaust's horrors made them all the more damning.
Latter-day Saints have seen many clues that their leaders have deep reservations about Trump's leadership. The Church strongly condemned Trump's calls for a Muslim ban on immigration to the United States, the Church-owned Deseret News called for Trump to drop out of the presidential race, and apostle Dallin H. Oaks recently signaled unease with the "politics of conflict sponsored by the aggressive new presidential administration" in the United States.
But this conference has provided even more evidence that Church leaders disapprove of Trumpism. To have four apostles, who are among the highest ranking clergy in the faith, speak in such forceful terms against the hatred that Trump is propagating may be unprecedented in the history of the Church. And it should inspire Church members who support Trump, and other policies of hatred and division (the Left's not immune!), to engage in some serious introspection about the ideologies to which they lend their support.