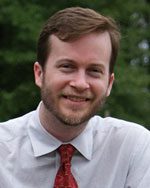 The son and grandson of ministers, as a young boy, Timothy Dalrymple spent far too many nights staring at the ceiling, pondering life's big questions and stories.
The questions he asked carried him to major in Philosophy and Religious Studies at Stanford University, earn a Masters of Divinity at Princeton Theological Seminary, and complete a Ph.D. in Religion at Harvard's Graduate School of Arts and Sciences.
Once a world-class gymnast whose career ended with a broken neck, Tim channeled his passions for faith and storytelling into his role as VP of Business Development for Patheos, helping to launch and grow the network into the world's largest religion website.
In 2013, Tim founded Polymath Innovations, a strategic storytelling agency that advances the good with visionary organizations and brands. As Polymath's CEO and Chief Creative Officer, today he leads a unique team of communicators from around North American and across the creative spectrum, serving mission-driven businesses and nonprofits who need a partner to amplify their voice and good works.
In addition to his writings and professional pursuits, Tim now enjoys less dangerous sports than gymnastics and spends as much time as possible with an out-of-his-league wife and two daughters who always boggle his mind. He and his family reside in Atlanta.