NPR gives unchallenged air time to a deluded Christian in Texas who says she diverted a deadly tornado to another neighborhood, claiming that "God had given us authority over the winds."
Sabrina Lowe, of Rowlett, Texas claims her Christian faith gave her the power to turn a tornado away from her home. Lowe explained to NPR what she and other family members did when they heard the tornado approaching Saturday:
We actually went outside and started commanding the winds, because God had given us authority over the winds, the airways. And we just began to command this storm not to hit our area. We spoke to the storm and said, 'Go to unpopulated places.' It did exactly what we said to do, because God gave us the authority to do that.
For Lowe to claim that God gave her "authority over the winds" is asinine, and an insult to the intelligence. Perhaps even more annoying is the fact that NPR aired this ridiculous and ultimately dangerous claim unchallenged, as if this patently false assertion was non-controversial and matter of fact.
Raw Story reports the EF4 tornado, with wind speeds up to 180 mph, was among nine confirmed tornadoes that swept through the Dallas area, killing 11 people and destroying more than 1,000 buildings.
Of course, if Lowe really did have "authority over the winds" one wonders why she didn't use that power to save all those lives lost. Why was she so selfish? Why didn't she use her special God given powers to save everyone? For that matter, one wonders why a loving God would send the deadly tornadoes in the first place.
Listen to the entire report posted online by NPR: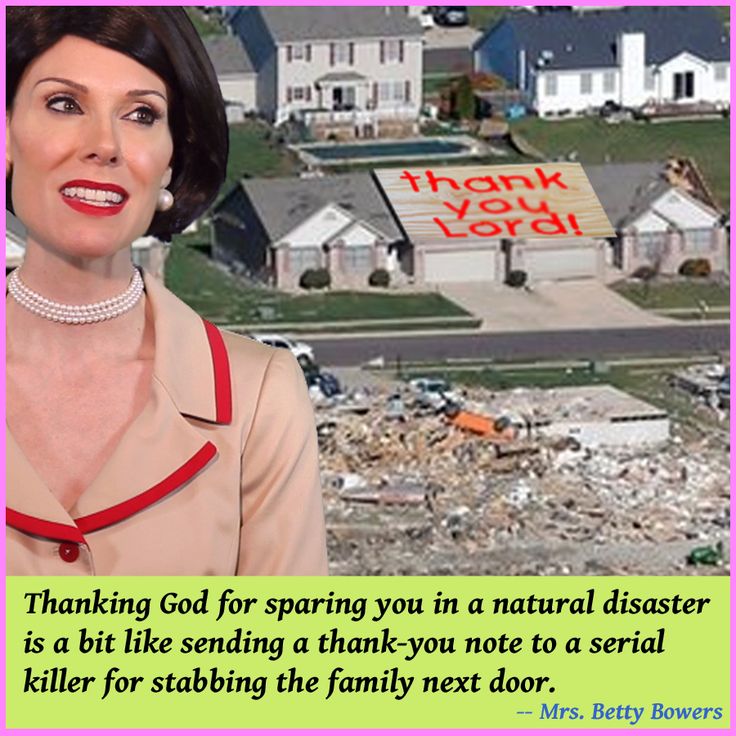 Thanking God for sparing you in a natural disaster is like sending a thank-you note to a serial killer for stabbing the family next door.