The husband and wife team behind the California mass shooting that killed 14 in San Bernardino were devout Muslims.
At a news conference Wednesday, San Bernardino Police Chief Jarrod Burguan identified the suspects in the shooting as Syed Rizwan Farook, 28, and Tashfeen Malik, 27.
Both were killed in a shootout with police hours after allegedly killing 14 people and injuring 17 others during a Christmas party at a state-run center for people with developmental disabilities.
Syed Farook was a US citizen who worked for the San Bernardino County health department as an environmental specialist for five years.
Tashfeen Malik was Farook's wife. According to reports, Malik was born in Pakistan and lived in Saudi Arabia before she married Farook about two years ago.
The couple had a 6-month-old daughter, whom they left with Farook's mother on the morning of the attack.
Farook's father told the Daily News his son Syed was a devout Muslim:
He was very religious. He would go to work, come back, go to pray, come back. He's Muslim.
Co-workers told the Los Angeles Times that Farook recently traveled to Saudi Arabia and returned with a new wife he had met online.
Patrick Baccari, a fellow health inspector who shared a cubicle with Farook, said the couple had a baby and appeared to be "living the American dream."
Farook's work colleagues report Farook was a devout Muslim, but rarely discussed religion at work.
Griselda Reisinger, who worked with Farook before leaving the agency in May, said:
He never struck me as a fanatic, he never struck me as suspicious.
Currently a motive has not been established for the massacre.
– UPDATE: San Bernardino Shooter Pledged Allegiance To Islamic State –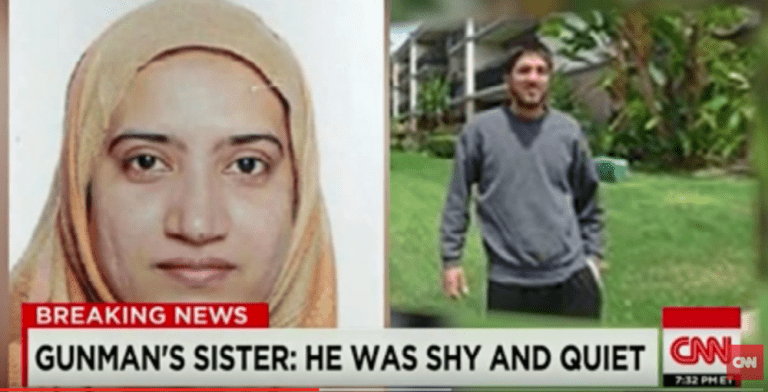 (Note: A previous image of the couple was removed out of concerns for accuracy, and video via CNN was addded.)