Heidi Cruz advocates for theocracy, says her husband, GOP presidential hopeful Ted Cruz, will "show this country the face of the God that we serve."
Cruz claims her husband is "uniquely able to deliver" a "combination of the law and religion" that will "show this country the face of the God that we serve."
During an interview with South Carolina radio host Vince Coakley earlier this week Mrs. Cruz said that she would support her husband's campaign even if she weren't married to him because of his religious values and because "this country is in crisis and this individual has an incredible talent to bring us out of this crisis."
Mrs. Cruz said:
… We are at a cultural crossroads in our country, and if we can be in this race to show this country the face of the God that we serve—this Christian God that we serve is the foundation of our country. Our country was built on Judeo-Christian values. We are a nation of freedom of religion, but the God of Christianity is the God of freedom, of individual liberty, of choice and of consequence.

And I think that's something that this country really needs to be reminded of, is that Christians are loving people, are nonjudgmental people, but there is right and wrong, we have a country of law and order, there are consequences to actions and we must all live peaceably in our own faiths under the Constitution. And Ted is uniquely able to deliver on that combination of the law and religion.
Heidi Cruz is as as demented as her husband Ted – both are warped by religious superstition and political ambition.
For those keeping track, this is yet another reason why good people must vote Democrat in 2016. Heidi and Ted Cruz, like the other GOP presidential hopefuls, are dangerous and deluded Christian extremists that should not be trusted with the highest political office in the land.
(H/T Right Wing Watch)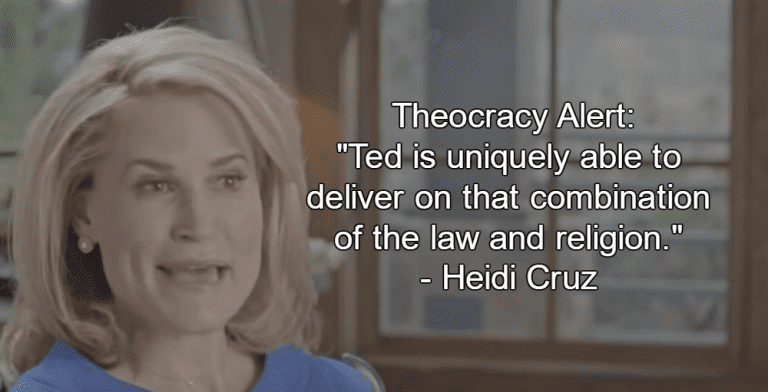 ---
Stay in touch! Like Progressive Secular Humanist Examiner on Facebook: