The Catholic church continues to protect pedophile priests who rape and sexually abuse children.
In a disturbing revelation, a newly released Catholic church document informs bishops they don't have to report accusations of clerical child abuse to the police.
The recently released Vatican training document for new bishops reads:
According to the state of civil laws of each country where reporting is obligatory, it is not necessarily the duty of the bishop to report suspects to authorities, the police or state prosecutors in the moment when they are made aware of crimes or sinful deeds.
In short, for the Catholic Church, obeying the law is optional, and protecting pedophile priests from criminal prosecution is always an option.
The disturbing document emphasises that, though they must be aware of local laws, a bishop's only duty was to address allegations of child sexual abuse internally, thus giving bishops permission to break local laws that usually mandate the reporting of crimes like the sexual abuse of children.
The training guideline was written by French monsignor Tony Anatrella, a consultant to the Pontifical Council for the Family, and released by the Vatican earlier this month.
The Vatican has declined to comment on the story, however, Catholic apologists are attempting damage control, and trying to minimize the disturbing if not surprising story.
It is no secret that Catholic priests have been sexually abusing children for decades, if not centuries. Last year the National Catholic Reporter issued a report stating that between 1950 and 2015 the church had paid out $4 billion in settlements related to the rampant sexual abuse of children by pedophile priests.
Bottom line: Despite pledges from Pope Francis to clean up the church, the horror continues, and the Catholic Church continues to protect and enable members of the clergy who rape and sexually abuse children.
For a moving look into the decades-long cover-up of child abuse within the Catholic Church see the critically acclaimed film Spotlight.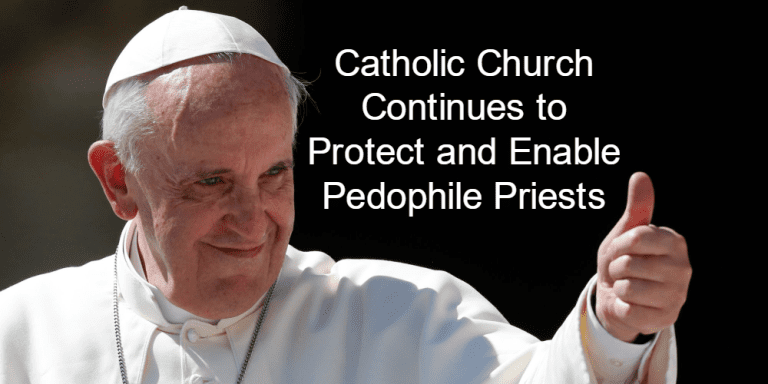 ---
Stay in touch! Like Progressive Secular Humanist Examiner on Facebook: