Christian parents who refused to treat son's diabetes on trial for murder.
At the time of his death Alexandru Radita weighed only 37 pounds, and was 15-years-old.
His parents, Emil and Rodica Radita, have been charged with first-degree murder in connection to their son's death.
The first-degree murder trial for Alex's parents, Rodica, 53, and Emil Radita, 59, began last week.
According to reports, Emil and Rodica Radita refused to treat their son's Type-1 diabetes. Despite a diagnosis at age 3, Alex rarely received proper treatment. His untreated diabetes resulted in numerous hospitalizations over 12 years, until Alex died in 2013.
Alex was hospitalized several times before social services officials seized him for a year. However, he was returned to his parents in 2005.
According to the testimony of a paramedic who was called to the Radita home in May, 2013, Alex Radita was "emaciated to the fact that he looked mummified." Indeed, his physical condition was so disturbing, many of the emergency responders who found the emaciated child inside the family's home had to seek psychological services.
According to court reports, emergency responders encountered about 20 people who were inside, kneeling, chanting and praying when called to the family's home in May 2013.
Court testimony indicates Alex's father called friends from his church before he called 9-1-1.
Evidence introduced into court include pages of Bible verses: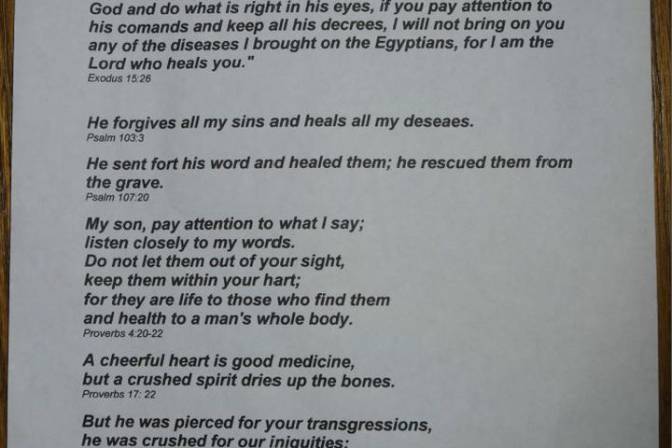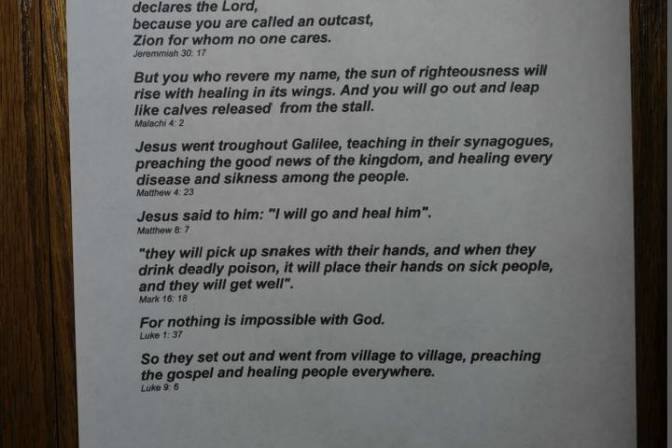 In addition to the Bible verses, a search warrant at the home where the family lived led to the discovery of unused insulin syringes and expired glucose test strips. Records show that the parents had the insulin, and knew how to treat their son's diabetes, but refused to do so.
The Raditas had several adult children who also lived in the home, but none of them were ever charged in the death of their brother.
An unsigned note, written by one of Alex's siblings and introduced as evidence, describes walking by Alex's room before he died and seeing his mother lifting the sick boy.
The note reads:
I saw his face, it was so scary. It looked like he was dead.
The sibling also writes about getting a bible and praying with a sister:
[We] started to pray, the Holy Spirit said he was in paradise.
In her opening statement prosecutor Susan Pepper said:
It is hard to imagine what Alexandru experienced in the last days, weeks and months of his life. It must have been painful. It must have been profoundly lonely.

At some point the accused knew their plan was killing their son or they knew he was likely to die and they accepted this consequence. They knew this and yet they continued their plan.
The trial is is scheduled to continue through June.
Bottom line: A teen is dead because religious parents refused to treat a treatable illness, apparently choosing prayer over modern medicine, with tragic consequences.
(H/T Friendly Atheist, Dead State)